Today I wanted to share with you how essential oils can help us in our everyday lives to de-stress, reduce anxiety and sleep better. Many oils are calming and relaxing and they help us de-stress on many levels – emotionally, mentally and physically. They are so easy to use and make such a difference! Here are some ideas to get you started.
Essential oils to de-stress, reduce anxiety and sleep better
Ylang ylang Useful for treating anxiety, depression, stress and tension. Creates a sense of relaxed wellbeing. Euphoric, aphrodisiac, sensuous, calming. Floral and exotic – a luxurious fragrance. (Use in moderation. Heady aroma can cause headaches or nausea.)
Sandalwood Warm, woody fragrance that is relaxing, restorative, aphrodisiac, soothing. Calming effect on the brain – was traditionally used in meditation. (If prone to allergies use with caution.)
Frankincense Calming and uplifting, a smoky scent with a hint of lemon. Helps to lengthen and deepen breathing, traditionally used in meditation. (Best to avoid in first trimester of pregnancy.)
Bergamot A refreshing citrus scent; invigorating without being over stimulating. Joyous, refreshing, uplifting, antidepressant. Good for tension, stress and irritability. (Use Bergamot FCF on the skin.) 
Four  ways to use essential oils to relax and de-stress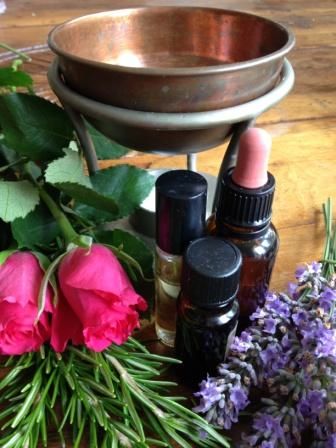 Oil burner 7-8 drops in an oil burner. (Top tip – light your oil burner in your bedroom half an hour before going to bed and keep your bedroom door closed; when you go up to bed your room will smell wonderful! Or do the same in your living room when relaxing in the evening.) Tissue 2-3 drops on a tissue to smell when needed, inhale slowly and deeply.
Bath My favourite end-of-the-day bath blend is 3 tbsp sea salt (or 1 tbsp oil) mixed with 3 drops of ylang ylang, 3 drops of frankincense and 3 drops of bergamot.
Nighttime facial oil – 10 ml jojoba oil mixed with 4 drops of essential oil such as 2 drops frankincense and 2 drops bergamot FCF. As a bonus frankincense is cytophalactic meaning it speeds up cellular renewal, and therefor is an excellent anti-aging oil!
(Remember: always check safety information for individual oils before use. Essential oils should always be diluted before use and used at concentrations of 2% (or less for some oils) which equals 2 drops per 5ml carrier. Patch test before use.)