Diploma in Natural Skincare Formulation
Formulate natural skincare products like a professional.
Design and launch your own skincare brand.
Diploma in Natural Skincare Formulation
Formulate natural skincare products like a professional.
Design and launch your own skincare brand.
Design your own range of unique, natural or organic skincare products.
Accredited online course.
Multi-award winning school.
Study from anywhere in the world.
The only course you need to create your own skincare brand.
The most comprehensive online course available, taking you through every aspect of creating skincare products – from defining your values and creating your brand, to formulating high-quality, professional skincare products, having them tested and complying with cosmetic regulations.
The Diploma in Natural Skincare Formulation explains ingredients, terminology, standards, and policy. I know how to read the labels, how to search for the ingredients and its functions. I know where to obtain ingredients. I know what is safe and what is not so safe. I can make my own products and feel safe to use them.

I think this course is well worth the time and money I spent. I enjoy learning all the products the course teaches. I especially like how it lists all the ingredients and what they are good for. The example formulations are the best. I was not so good at making products, so the examples got me started, then I could start replacing one after another.

This course is very beautifully designed.  I liked the video lessons because they provided step by step demonstrations which made it easy to follow and we knew what to expect.
Wendy Rosky
USA
I can create AMAZING emulsions and serums and I am overjoyed to watch them come together successfully when I'm in my lab creating! I put all of my passion into my formulations now that I can make the emulsions and serums on a professional level! It's just so exciting and such a dream for me!!

I loved the demonstrations of how to make different products. The videos were so very useful and I went back to them often and still do if I think I am stuck. I also love the downloaded textbooks on all so I can always reference back to those if I need help. The textbooks and courses are so informative and set me up for success! =)

I want to tell you how grateful I am that I found this school! It's exactly what I needed to launch my dream! THANK YOU SO MUCH!!!!!!!!!
Penelope De Luca
USA
Before I started the course, I had difficulties that I couldn't understand with skincare formulation and recipes as well. Everything about making skincare products seemed very difficult and complicated. Due to some DIY instructions I always failed.

For example, using beeswax as an emulsifier or mixing honey with carrier oils. I always wondered how DIY instructors could do that and why I always failed.

After taking the courses, I knew that I was wasting my time and money due to following the DIY recipes.

The systematic and scientific knowledge of the courses was very helpful for me and enabled me to properly understand skincare formulation. Now I can make most types of skincare products.

I enjoyed everything about the courses, especially the worksheets which are very useful when formulating my own products. Thank you all very much. My mind wholly changed about natural skincare product making.
Myadagmaa Tsedendamba
Mongolia
My motive for taking the course was to set up my own natural skincare business, and it has been worth every penny!

Prior to the course, I had no idea about formulating skincare products. I was completely lost with so much information on the Internet and didn't know what to trust or where to start.

It was so useful to watch the videos that clearly demonstrated the process of making skincare products.

I am now confident that my knowledge about ingredients used in skincare has improved significantly and that I can start formulating effective and natural skincare products.
Pujitha Raja
UK
Being self-taught, I had conducted a LOT of research, but soon discovered that what I was reading or watching on the internet was actually mis-information, and was not enabling me to hone my skills to a level whereby I felt completely confident in what I was doing.

I felt 'stuck' and was having to stick to formulating very basic products. I wanted more! I had a thirst for information and knowledge and this is what led me to your course.

I now have a far better understanding of ingredients, what their properties are, why we use them and how to work with them effectively. I thoroughly enjoyed all the information provided in the course, particularly in regard to the properties of ingredients such as extracts, which I had never worked with before. But also, calculating batch sizes!
Cara Wetherall
Australia
Who is the Diploma in Natural Skincare Formulation for?
1. Individuals with a passion for skincare
Take your skincare formulation skills to the next level! Formulate for different skin types and concerns. Create products that are natural, organic, vegan, clean and/or sustainable.
Everything you need in one course! A complete, all-in-one course that helps you create your brand, formulate your products and take them to market.
Why learn to formulate your own products?
Create your own unique, professional standard skincare products – don't just copy recipes from others.
Select ingredients and design products tailored to the needs of yourself or your ideal customers – this is the key to creating products people love!
Save time and costly mistakes. Learn the skills to formulate like a professional, not an amateur.
It is YOUR responsibility to sell products that are safe. Don't take any chances. Have peace of mind that you are creating high-quality, safe products.
Learn the theory, practice, art and science of natural skincare formulation in an accredited, multimedia online course.
About the

 

School of Natural Skincare International
The School of Natural Skincare International is a multi-award-winning online natural cosmetic formulation school. Our accredited, multimedia online courses cover every aspect of skincare and haircare formulation and are studied from home, wherever our students are in the world, via our online classroom, and with tutor and community support every step of the way.
Founded in 2010 by Directors Gail and Gareth Després, to date the School has trained over 12,000 students in 130 countries to make their own natural and organic skincare and haircare products and launch successful businesses. 
The School's team of expert tutors include cosmetic scientists, cosmetic formulators, aromatherapists, beauty business experts and safety assessors, and all are passionate about helping you create beautiful natural cosmetics and thriving businesses.
The School's fabulous formulations and fun, creative classes have been featured by the BBC and glossy magazines like Green Parent, Spirit & Destiny, and Country Homes and Interiors Magazine.
Learn to formulate a complete skincare range
Cleansers
Cleansing oils
Oil-to-milk cleansers
Cleansing gels/cleansing melts
Cleansing balms
Emulsifying cleansing balms
Cleansing lotions
Cream cleansers
Toners
Toners
Spritzers/mists
AHA/BHA toners
Exfoliators
Exfoliating facial polish
Exfoliating body polish
Body scrubs
Exfoliating lotion
AHA/BHA exfoliating creams, masks and toner
Oils and oil-based serums
Facial oils
Oil-based facial serums
Body oils
Massage oils
Dry oil body spritz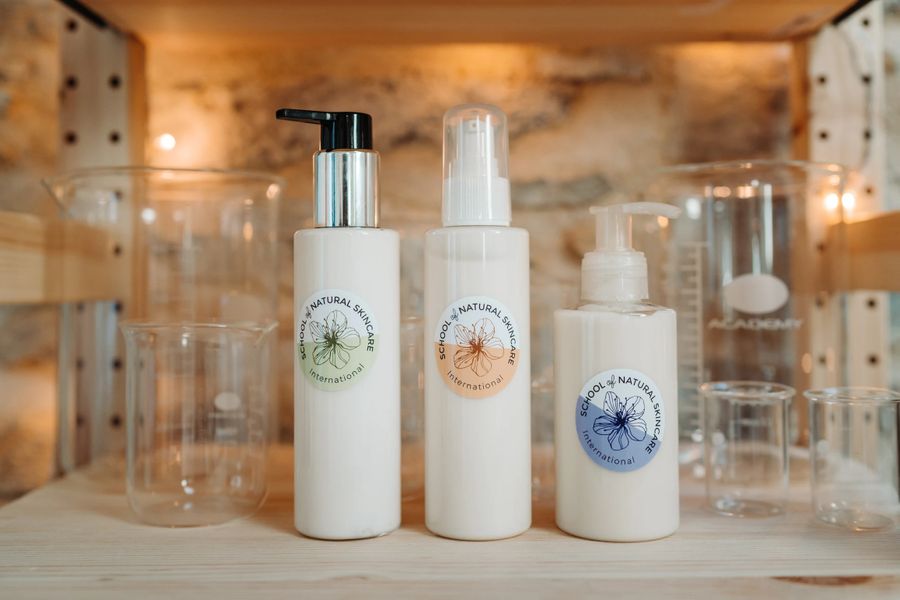 Creams and lotions
Moisturizing fluid
Oil-free moisturizing lotion
Face lotion
Face cream
Body milk
Body lotion
Body cream
Body butter
Gels
Hydrating facial gels (water-based)
Body gels (water-based)
Oil-based gels (oleogels)
Balms and butters
Lip balm
Cleansing balm
Facial balms
Body balms
Massage balms
Salves
Oil-gel balms
Anhydrous whipped body butters
Bath and shower products
Bath soaks
Bath oil
Self-emulsifying bath oil
Shower oil
Self-emulsifying shower oil
Surfactant products
Facial washes/gel
Body wash
Shower gel
Have fun, get creative and be proud of your achievements!

Studying with the School of Natural Skincare has been one of the  greatest assets to creating a  thriving natural cosmetic company!
The courses that the school offered opened my learning and capabilities to formulate for my company. It has given me the knowledge not only to formulate but to further explore other products to formulate with that I would have otherwise not known about or even remotely how to effectively formulate with!
Read more of Diane's story
Diane Evdokimoff - Wild Beauty
Canada
It's important not to believe everything you watch and read online. A large follower count doesn't mean that someone knows what they're talking about.
If you want to start selling your creations and be much-better placed to turn your passion into a viable business, it's important not to cut corners. Study your passion with a reliable school like the School Of Natural Skincare. The tutors are very welcoming to new community members, and so are the current students. They are happy to answer questions so don't be afraid to reach out for guidance if you need it.
nourishingmama.co.uk
Read more of Denisse's story
Denisse B García
Nourishing Mama, UK
When learning virtually the school needs to have an easy to use virtual platform. You guys do! The course material is easy to access and the content is great.
I finally have products that work for me. In the past I could never find the right facial products. No matter what I put on I was dry and irritated shortly after. Not anymore!"
Read more of Katrina's story
Katrina Hawes - Living Naturally Healthy
USA
Completing the Diploma has enabled me to formulate my products properly and deliberately and launch my brand Gallipot.
I can make informed decisions regarding ingredient selection and define my product. I now understand percentages and weight conversions too, so I am confident I am formulating properly. I have learned new vocabulary and I can now make hydrous products as well as anhydrous products. I really enjoyed the course and appreciated the availability and support of Gail and Gareth. The Diploma was perfect for me!

Lindri Henegar Riveras

Seattle, USA
Yes, you can learn to formulate!
Our proven system for teaching formulation skills, developed over more than a decade of training provision, means when you study with us you'll gain the knowledge, skills and support to succeed at formulating.
You don't need a scientific background; our courses cover everything you need to know. You can rest assured that you are learning from qualified and experienced professionals, and are not being misled by inaccurate, poor quality and unsafe information often found online.
We start with more straightforward products and progress to the more complex or challenging products, so you can build your skills and confidence along the way.
We'll teach you to formulate by providing the following resources for each type of product:
| | |
| --- | --- |
| Level | Beginner to intermediate. |
| Duration of access | 18 months' access. This can be extended for a small renewal fee. |
| Prerequisites | None. Internet access and access to a computer or tablet is needed to access the online classroom. |
| Study time required | Approx. 70-150 hours. Most students complete the course within 6-18 months. |
| Certificate | Your certificate is issued on successful completion of the end of course assignments. |
Study from anywhere in the world, in your own time.
14 in-depth modules and 14 beautiful textbooks.
Full HD video classes.
14 workbooks and 28+ fillable, downloadable worksheets.
Library of ingredient information.
Quizzes and activities.
Private online student community: get support from your fellow students and graduates.
Resources for further research including where to find peer-reviewed scientific research.
Tutor support within our online classroom, plus your assignments personally marked by our cosmetic scientists.
Discover the course curriculum…
Module 1: Your Values, Brand and Creating Unique Products
Create a unique brand by establishing your personal or brand values, consider which niche to fill or certifications to adhere to, create a product story and define your brand's unique selling proposition.
1.1 Your brand values 
We help you define your values so you can create a unique brand that stands out from the crowd (and creates a better world at the same time!). What is important to you as a brand creator? Organic, natural, green, vegan, cruelty-free, palm oil-free, clean, ethical? 
1.1.1 Spotlight: Vegan skincare
We deep-dive into vegan skincare – what it is and how to formulate natural, vegan skincare products. 
1.1.2 Spotlight: Sustainable skincare
We deep-dive into sustainable skincare. Discover the three pillars of sustainability and how to make your brand sustainable. 
1.1.3 Spotlight: Waterless skincare 
Discover the benefits of waterless skincare and how to formulate waterless products.
1.2 Defining 'natural' and 'organic' 
What does natural mean? How do you know if an ingredient is considered natural and permitted in natural cosmetics? What do the terms organic, green and clean mean? We set the record straight so you can choose how to define natural for your brand.
1.2.1 Spotlight: Clean skincare
We deep dive into clean skincare – what it is and why it is appealing to consumers. 
1.3 Getting certified 
Certification isn't essential but you may like to explore your options. Learn about the different global standards and options for certification: organic, natural, vegan, fairtrade, cruelty-free and more. 
1.4 Creating a strong brand identity
Discover 10 key aspects of a strong brand identity and how to use them to create your own unique and inspiring brand that your ideal customers love! Learn from real examples of trailblazing brands and apply the same principles to your brand identity.
1.4.1 Your product story 
A great formula isn't the only thing a product needs to succeed. We take you step-by-step through the process of creating a captivating product story to showcasing its unique selling proposition (USP) and attracting a loyal following.
1.5 Your skincare line
How many products should you include in your skincare line? It is far less than you might think! What is a 'star' or 'hero product and why do you need one? Start to design your skincare line with confidence.
Module 2: Skincare Product Design Process
Follow our step-by-step design process to formulate products and select ingredients to achieve the result you or your customers desire. Learn the steps required to take a product from concept through to a final product that is ready for sale.
2.1 Your ideal customers 
Avoid one of the biggest mistakes made by founders by getting to know who you want to sell your products to first and then create something that meets their needs. This is the secret to designing a product customers need, want, love and will buy again and again.
2.2 The six-step 'must-have' product design process 
Learn how to create skincare to address specific needs and concerns. Our signature six-step 'must-have' product design process shows you how to provide the skincare solutions you (or your customers) need and want!
2.3 Product concept to final formula 
We start by exploring the seven key aspects to a great performing formula. Then we take you step-by-step through the process of creating a product concept and turning it into reality. Discover our 12-step process to perfecting your formula.
BONUS: Formulate a Facial Oil Challenge
Start your formulating journey by following our six-part formulation challenge!
Module 3: Creating Professional Cosmetic Formulations
Develop a product concept using a product development brief and a benchmark, write a formula in the correct manner, evaluate your product's sensory characteristics and submit your product for the appropriate lab tests.
3.1 Cosmetics: definitions, categories and regulations
Before you start to formulate skincare products you will need to ensure your products fit the definition of a cosmetic rather than a drug (the line is easy to cross!). 
3.2 Types of cosmetic formula
Learn the three main types of cosmetic formula that we'll cover in this course and the facts about each. You will never be confused about whether you need a preservative again!
3.3 What is a formula?
Discover how to write a professional formula and the essential information to include. We take you through this, step-by-step, so even if you are completely new you'll feel confident writing formulas rather than recipes and understand why it is so important.
3.3.1 Percentages in more detail
In this lesson we take a closer look at percentages. This is an optional lesson for students who are unfamiliar with percentages or who would like to understand more about them. You will learn what a percentage is and how to convert a percentage into a fraction or decimal.
3.3.2 Turning a recipe into a formula
We show you how to convert recipes into a professional and standardized formula.
3.4 Using a product development brief
A product development brief is a secret weapon to designing skincare products that have your desired characteristics and that work! We provide a useful template and describe how to use it to achieve your skincare goals.
3.5 Using a benchmark
Discover how to use a product on the market to create similar characteristics in your own product. Learn what "reverse formulating" is and how to decipher a product label or ingredient list to create your own similar product.
3.6 Sensory product evaluation 
Evaluate the sensorial properties of your products and make any necessary adjustments to perfect your formula. Our product evaluation template makes this easy!
3.7 Cosmetic product testing 
Ensuring your products are safe protects both you and your customers. It is also a legal requirement in many countries. Learn about various types of testing, including preservative efficacy testing (PET) also known as microbiological or challenge testing, stability and compatibility testing, Cosmetic Product Safety Reports (CPSRs) and more. Plus discover some ways you can 'pre-test' your products at home for microbiological and stability issues.
Module 4: Skin Anatomy and Physiology: Formulating for Different Skin Types
Apply knowledge of how the skin functions, the physiological changes that occur as the skin ages, common characteristics of different skin types, tones and concerns to formulate products suited for oily, sensitive, dry, combination and aging skin and to address concerns such as hyperpigmentation.
4.1 The function and structure of the skin
Learn the seven main functions of the skin, then we take you layer-by-layer through the epidermis, dermis and subcutaneous layer learning about the main responsibilities of each. We explore the epidermis in detail, following the production of skin cells from creation to shedding away.
4.2 Skin barrier
A disrupted skin barrier can cause dry patches and flakiness, plus the skin can feel sensitive or inflamed. Discover the significance of the skin barrier and how to keep it in optimum condition.
4.3 Moisturizing the skin: water, humectants, emollients and occlusives
Learn how to effectively moisturize the skin, and the benefits and limitations of anhydrous products and emulsions.
4.4 The acid mantle
An important role of the acid mantle is to maintain the skin's pH balance, which helps maintain skin suppleness, smoothness and strength. Discover factors affecting the acid mantle pH, possible characteristics of disrupted acid mantle pH and how to protect and restore the acid mantle.
​4.5 Skin aging
Understand in detail how the skin ages, the physiological changes, visible signs of skin aging and how skincare products can improve the appearance of aging skin.
4.6 Formulating for different skin types and concerns
We take a close look at different skin types (including mature, oily/acne prone, dry, sensitive and normal), the characteristics of these skin types and which ingredients are beneficial. We provide you with a guide for each skin type, which will be invaluable when you start formulating!
We also explore the role of cosmetics and drugs in the treatment of skin conditions including acne, eczema/dermatitis, hyperpigmentation, psoriasis and rosacea.
4.7 Formulating for the eye contour and lips
We share the factors to consider when formulating for the eye contour, how the skin on our lips is different to the skin on our face and what lips need to stay in optimum condition.
4.8 A skincare routine
A skincare routine doesn't need to be complicated but it is the key to radiant skin! Follow our simple facial and body care routines and learn about occasional skincare treatments.
Module 5: Cosmetic Ingredients and Raw Materials
Select ingredients and cosmetic raw materials appropriate for your formula with confidence by applying your knowledge of the functions, properties and benefits of a wide range of ingredients. This module is a vast library of reliable and accurate information you will refer to again and again!
5.1 Classification of ingredients/raw materials
Ingredients fall into different categories and it is important to understand which category they belong to so you can formulate with them effectively.
5.2 Compatibility of ingredients/raw materials 
How do you know which ingredients are compatible with one another? Discover six properties of ingredients that affect their compatibility.
5.3 Ingredients and functions: an overview
This lesson will provide an overview of the ingredients covered in this module and indicates within which lesson you can find further information.
5.4 Researching ingredients/raw materials
With so much unreliable or incorrect information online and in books, how do you know where to find accurate and reliable information about ingredients? We share our top recommendations with you. 
5.5 Lipids
Lipids are a key ingredient in natural skincare products; they soften the skin, help the skin retain its moisture and support the skin's barrier function. Discover the functions and benefits of lipids, how they are extracted and processed, and about comedogenicity. 
5.5.1 Composition of lipids
Discover the chemistry of lipids, and take a deep-dive into fatty acids, unsaponifiables and vitamins.
5.5.2 Carrier oils
Carrier oils offer different benefits to the skin and contribute different properties and qualities to your skincare products depending on their composition. Discover 35 carrier oils in detail.
5.5.3 Esters
Esters are a special kind of emollient with a light, silky skin feel that are an ideal replacement to silicones. Discover natural ester options to use in your formulations.
5.5.4 Butters
Butters are rich and creamy and a delightful addition to cosmetics! Learn about a range of butters, including some exotic options.
5.5.5 Waxes
Waxes play a number of important roles in cosmetics. Discover both vegan and non-vegan options including a detailed comparison guide. 
5.5.6 How to select lipids for your formulations
With so many lipids to choose from, how do you select which to use? We share nine key factors to consider.
5.5.7 Getting to know your lipids
Lipids need to be experienced first-hand to be understood properly. Our useful worksheet will take you through the process of getting to know your lipids.
5.6 Humectants
Humectants are ingredients that attract water from the atmosphere to the skin and bind it there. Humectants work with emollients and occlusives to keep skin moisture at optimal levels. Discover seven natural humectants and how to use them. 
5.7 Clays, powders, salt and exfoliants
A variety of dry raw materials are useful in cosmetics and they have a number of different functions such as absorbing oil, exfoliating, and adding color and visual appeal.
5.8 Active ingredients
Active ingredients are high-performance ingredients that offer a special benefit to the skin. 
5.8.1 Antioxidants
Antioxidants have two main functions: to extend the shelf-life of cosmetics and to provide benefits to the skin. Learn about a variety of natural antioxidants.
5.8.2 Vitamins
Learn about three vitamins that are a very beneficial addition to skincare products: Vitamin B3 (Niacinamide), Pro-vitamin B5 (Panthenol) and Vitamin E. Discover their benefits and how to successfully incorporate them into your formulations.
5.8.3 Botanical extracts
Botanical extracts are a vast category of ingredient! Learn about all the different ways they can be extracted and the types of formula you can use them in. Then we look at 21 botanical extracts in detail. 
5.9 Essential oils, hydrosols and fragrances
Learn about fragrancing cosmetic products and key considerations when using essential oils, such as how they work, how much to use, how to use them safely and phototoxicity. 
5.9.1 Essential oil quick reference chart
A handy reference chart to use when formulating.
5.9.2 Essential oil profiles
Essential oils have many benefits for the skin such as being antiseptic, astringent or anti-inflammatory and also provide a wonderful fragrance to cosmetics. We provide 24 detailed essential oil profiles. 
5.9.3 Getting to know your essential oils
We share our well-loved method for really getting to know your essential oils.
5.9.4 How to choose and blend essential oils
Use our helpful tips to create synergistic essential oil blends.
5.9.5 International Fragrance Association (IFRA) guidelines and calculating allergen levels
A step-by-step guide to calculating essential oil allergen levels and when to include allergens on your label.
5.10 Functional ingredients
Functional ingredients make a product work. They have a specific function or deliver a certain benefit. 
5.10.1 Natural emulsifiers for creams and lotions
Emulsifiers are a key functional ingredient in cosmetics. Learn about what emulsifiers are, how they work and why they are used in cosmetics. Discover 13 natural emulsifiers for making creams and lotions, including palm oil-free emulsifiers. 
5.10.2 Emulsifiers for self-emulsifying oils and oleogels
Create innovative oil-to-milk and gel-to-milk cleansers, scrubs and bath and shower oils with special self-emulsifying emulsifiers. Discover exciting new ingredients and how to use them.
5.10.3 Thickeners
Discover a variety of natural oil and water phase thickeners for viscosity modification. Create gels, thicken formulas and improve emulsion stability. 
5.10.4 Solubilizers
Solubilizers are required to add oil soluble ingredients such as essential oils into a water-based product, like facial toner, body spritzer or gel. Learn about several natural solubilizer options.
5.10.5 pH adjusters
Testing and adjusting the pH of cosmetics is a crucial step! Discover how to choose an appropriate pH adjustment solution.
5.11 Natural colorants
We explore a variety of ways of coloring your skincare products from using mineral pigments and micas to using the natural color present in a variety of oils and extracts. 
5.12 Organizing and storing materials in your lab
Crucial to good manufacturing practice is organizing and storing raw materials properly. Use our useful incoming ingredient (raw material) log to help you.
5.13 Substituting ingredients
If you cannot find a certain ingredient what do you do? We give you a six-step process to finding suitable substitutes.
5.14 Supplier list: cosmetic ingredients and equipment
A list of hundreds of cosmetic ingredient suppliers from all around the world! Plus a shortlist of our favorite in each region.
Module 6: Lab Skills, Equipment and Packaging
Set up a home lab with the appropriate equipment, adhere to good manufacturing practice, carry out key production process techniques and make different sized batches.
6.1 Equipment for your home lab
Learn about the equipment you need to set up your own small-scale lab at home, with plenty of recommendations for items such as weighing scales and immersion blenders.
6.2 Professional lab equipment
Learn about five pieces of professional laboratory equipment that are useful for home formulators who are serious about formulating or who manufacture products for sale. We compare magnetic stirrers, overhead stirrers and homogenizers so you understand the difference and which, in our opinion, are worth investing in (and which are not).
6.3 Scaling up and manufacturing equipment
Discover the equipment used in professional manufacturing settings and about the scaling-up process: how to take a product you have formulated at home into a manufacturing setting.
6.4 Good manufacturing practice
GMP is essential for producing high-quality products and is a fundamental requirement if you sell your products. Our handy checklist, calibration records and manufacturing log will ensure that you have easy-to-follow guidelines and records in place.
​6.5 Lab techniques and skills
Develop the key skills you need for making your products: weighing, heating, calibrating, sanitizing, mixing, homogenizing, filling and calibrating. 
​6.6 Testing pH
We get many questions on this topic so we have provided a thorough and detailed lesson, including video demonstrations, that explain what pH is, why and when to measure pH, how to measure pH and how to work with and look after a pH meter.
​6.7 Adjusting pH
Learn step-by-step how to create pH adjustment solutions, how to adjust pH, calculating the amount of solid/pure pH adjuster used and rewriting your formula to include the pH adjuster.
6.8 Calculating batch sizes
Students often come to us really confused about formulation math! We help you to become confident working in percentages and calculating weight-based measurements for different batch sizes. We even provide a handy batch calculator to make it really easy!
​6.9 Cosmetic packaging
Learn about the purpose of cosmetic packaging, packaging types, materials and closures, how to clean and sanitize packaging, plus the nine factors to consider when choosing packaging.
Module 7: Preserving Skincare Products Naturally
Cosmetic preservative is such an important topic that we have dedicated a whole module to it. Put into place strategies to extend the shelf-life of your products and preserve your products effectively to ensure they stay in optimum condition.
​7.1 Introduction to microbiology
Microbes can cause product degradation and harm consumers. Educate yourself about the microbes that affect cosmetics, the conditions under which they grow and how they enter cosmetic products, so you can protect your products, your customers and yourself.
7.2 Strategies for prolonging shelf-life
We explain how shelf-life is determined and give you eight strategies for extending the shelf-life of your cosmetics (using preservatives is only one) so you can ensure the highest quality and longest shelf-life of your products.
7.3 Natural preservatives
We have hand picked our favorite nine COSMOS-approved broad-spectrum preservative blends that are reliable and easy to use. Discover the factors that impact the effectiveness of your preservative, both how to optimize the effectiveness of a preservative and problem ingredients that should be avoided. 
7.3.1 Preservative ingredients
If you are interested in understanding more about the components of the different preservative blends that we cover in lesson 7.3, this lesson is for you!
7.4 Creating a preservative system
A broad-spectrum preservative blend is not always enough to provide adequate protection or to withstand challenge/preservative efficacy testing. Learn our system for combining preservatives and chelators to create a robust broad-spectrum preservative system.
Module 8: Formulating Oils, Oil-based Serums and Self-emulsifying Oils
Formulate and make a range of anhydrous oils, oil-based serums and self-emulsifying oils for the face, bath and body.
8.1 Introduction to formulating oils, oil-based serums and self-emulsifying oils
Learn the fundamentals of these product types including their similarities and differences, suitable ingredients, how to choose oils, product shelf-life and how to evaluate your formula.
8.2 Formulating body and massage oils
Learn to formulate dry oil body spritzes, body oils and massage oils for soft, supple skin. Discover what they are, how they are different from each other, ingredients to use and how to formulate them. Follow our formulation guides and templates to formulate your own!
Five example formulas are provided, including Moringa Dry Oil Body Spritz and Coconut and Lime Body Oil.
8.3 Formulating facial oils and serums
Facial oils and oil-based serums can deliver a range of benefits including regenerating, nourishing, balancing, calming, soothing and antioxidant. Learn how to choose oils for different skin types and purposes and which botanical extracts, vitamins and antioxidants to use. Follow our formulation guides and templates to formulate your own!
Four example formulas are provided, including Soothing Facial Serum for Sensitive Skin and Antioxidant Facial Serum with Coenzyme Q10.
8.4 Formulating bath and shower oils
New generation bath and shower oils use self-emulsifying emulsifiers to create oil-to-milk products that are applied as an oil and magically turn to milk when they come into contact with water! We explain which emulsifiers are suited to this purpose (including some brand new to the market) and how to formulate your own, step-by-step. 
Three example formulas are provided, including Lime and Sweet Orange Shower Oil and Lavender and Bergamot Bath Oil.
8.5 Formulating cleansing oils, oil-to-milk cleansers and cleansing gels
Cleansing oils are hugely popular as they effectively cleanse the skin and leave it soft and nourished! In this lesson you will learn to formulate a traditional cleansing oil, cutting edge oil-to-milk cleansing oils and cleansing gels using a range of innovative emulsifiers. Use our helpful formulation guides and templates to formulate your own!
Seven example formulas are provided including Grapefruit Cleansing Oil, Pomegranate Cleansing Gel and Frankincense Cleansing Melt.
8.6 Troubleshooting oils, oil-based serums and self-emulsifying oils
A helpful troubleshooting guide is provided to help you avoid running into difficulties and to fix any issues that may arise when formulating and manufacturing these product types.
Module 9: Formulating Butters and Balms
Formulate and make a range of gorgeous anhydrous, preservative-free balms and butters, including whipped body butters, lip balms, facial and body balms and salves, oleogels and cleansing balms.
9.1 Introduction to formulating anhydrous butters and balms
Learn the fundamentals of these product types including their similarities and differences, suitable ingredients, how to choose oils, butters and waxes, product shelf-life and how to evaluate your formula.
9.2 Formulating whipped body butters
Whip exotic butters into beautifully moisturizing body butters (no preservatives required!). 
Follow our formulation guides and templates to formulate your own!
Four example formulas are provided, including Whipped Body Butter with Babassu Oil and Illipe Butter and Sweet Orange and Kokum Whipped Body Butter.
9.3 Formulating balms and salves
From simple salves to protective lip balms, multi-purpose beauty balms to emulsifying cleansing balms and oleogels (oil-based gels); this lesson is full of inspiration and guidance for taking balm-style formulations to the next level!
Nine example formulas are provided, including Vegan Calendula Salve, Wild Rose Beauty Balm, Illipe and Murumuru Lip Balm, Sweet Almond Moisturising Gel-balm and Coconut, Illipe and Green Tea Cleansing Balm.
9.4 Troubleshooting balms and butters
How do you make less oily feeling butters? How do you increase their melting point? How do you stop them going grainy? We cover all this and more in our troubleshooting guide.
Module 10: Formulating Spa-style Soaks, Scrubs and Polishes
Formulate and make a range of indulgent soaks, scrubs and polishes just like you would find in a high-end spa!
10.1 Formulating spa-style soaks
Learn to formulate a range of soaks including bath soaks, and hand and foot soaks, for soothing, relaxing, invigorating or reviving the mind, body and senses! Follow our formulation guides and templates to formulate your own.
Three example formulas are provided, including Relaxing Rose and Milk Bath Soak and Invigorating Peppermint Foot Soak.
10.2 Formulating exfoliating scrubs and polishes
Formulate professional quality facial and body polishes with emulsifiers that rinse off easily from the skin. We also teach you how to formulate a lip scrub for beautiful soft lips!
Five example formulas are provided, including Peach and Poppy Seed Body Scrub, Vanilla and Shea Sugar Scrub and Softening Lip Scrub. 
10.3 Troubleshooting soaks, scrubs and polishes
Feel confident to troubleshoot any issues that may arise with our troubleshooting guide.
Module 11: Formulating Toners, Spritzers, Mists and Gels
Formulate and make a range of refreshing toners, spritzers and mists using delicate hydrosols and botanicals. Create hydrating gels for the face and body with powerful humectants.
11.1 Introduction to formulating toners, spritzers, mists and gels
Learn the fundamentals of formulating these types of aqueous products, including suitable ingredients.
11.1.1 Three natural solubilizers: Experiment and report
This in-depth report will show you how to work with various natural solubilizers (and which are most effective).
11.2 Formulating toners, spritzers and mists
Explore water soluble extracts, vitamins and humectants for supercharging your toners, spritzers and mists, plus how to use natural solubilizers to incorporate essential oils.
Follow our formulation guides and templates to formulate your own.
Four example formulas are provided, including Juniper Berry and Lemon Toner, Green Tea Toner for Oily Skin and Hydrating Hyaluronic Acid Toner.
11.3 Formulating gels
Discover different natural thickeners for creating gels and how to make gels with a range of functions including hydrating, soothing and helping with hyperpigmentation.
Four example formulas are provided, including Licorice and Niacinamide Gel for hyperpigmentation and Oil-free Moisturizing Gel.
11.4 Troubleshooting toners, spritzers, mists and gels
Feel confident to troubleshoot any issues that may arise with our troubleshooting guide.
Module 12: The Science of Emulsification
Comprehend the science of emulsification, describe the structure of an emulsion formula and apply your understanding of emulsification to successfully create emulsions and solve stability issues.
12.1 What is an emulsion?
Creams and lotions are examples of emulsions and in this lesson you will learn what an emulsion is, the two main phases of an emulsion, simple emulsion types (O/W and W/O), different uses of cosmetic emulsions and the three types of emulsification needed to form a successful emulsion.
12.2 The science of emulsification
In this more advanced lesson we take a closer look at the science of emulsification, what an emulsifier is and how they work.
12.3 How to make an emulsion: phases and stages in emulsion manufacture
In this lesson you learn the three phases of an emulsion and how these are written in your formula, the three stages of making an emulsion (heating, mixing and cooling) and three factors in the manufacturing process that can affect your emulsion characteristics.
12.3.1 Variations in emulsion manufacturing method
There are some possible variations in the manufacturing process which we explore in this lesson
12.4 How to choose your emulsifier
This lesson will help you choose which emulsifier to use. Discover key questions to ask when choosing your emulsifier and use our emulsifier checklist to help you create stable emulsions. 
12.5 Rheology, viscosity modification and emulsion stability
Learn how to modify the rheology and viscosity of your creams and lotions using different categories of rheology modifiers and how this contributes to emulsion stability.
12.6 Solving emulsion instability
It can be very frustrating when lotions separate and you don't know what you did wrong and how to fix it! This lesson will ensure that you know the steps you can take to solve any stability issues you encounter. You'll learn the four causes of emulsion instability (creaming, sedimentation, flocculation, coalescence) and how to solve them.
Module 13: Formulating Creams and Lotions
Formulate and make a wide range of creams and lotions for the face and body, from lighter body milks and lotions to richer creams and body butters.
13.1 Introduction to formulating creams and lotions
As creams are emulsions containing both an oil phase and water phase there are lots of amazing ingredients that can be used in them! Learn the basics of cream and lotion formulation including which ingredients to include in which phase. We break down a formula into all its components and discuss the function of each main ingredient so you will feel confident putting your own formulation together.
13.2 Formulating creams and lotions for the face and body
Learn to formulate a wide range of beautiful body care products from light sprayable body milks, to softening lotions and rich, thick body butters. Follow our formulation guides and templates to formulate your own!
Three example formulas are provided including Summer Sweet Sprayable Body Milk, Rose and Macadamia Body Lotion and Coconut and Shea Body Butter.
Then create beautiful facial moisturizers for all skin types, from light oil-free lotions to nourishing creams, with a range of rejuvenating and regenerating ingredients. Delve into high-performance ingredients and active botanicals to create products that are both natural and powerful! Learn about these product types including night creams, day creams and eye creams. Discover what they are, the differences, typical ingredients and how to formulate them for different skin types. Watch a video demonstration so you know how to make your own, step-by-step.
Six example formulas are provided including Frankincense Face Cream for Mature Skin with Coenzyme Q10, Facial Lotion with Licorice and Niacinamide and Eye Cream with Caffeine and Ceramide Complex.
13.3 Formulating cleansing and exfoliating lotions
Cleansing lotions are a gentle and effective way to cleanse the skin. Learn about the typical ingredients used in cleansing lotions and how to formulate them. Formulation templates and guidelines are provided.
We include two formulations for a Soothing Cleansing Lotion for Sensitive Skin and Olive Facial Exfoliating Lotion. 
13.4 Troubleshooting creams and lotions
Feel confident to troubleshoot any issues that may arise with our troubleshooting guide.
Module 14 Cosmetic Regulations and Business Essentials
Comply with cosmetic, labeling and claims regulations.
14.1 Introduction to selling your products legally
This lesson we cover seven important steps to take before you sell your products.
14.2 Creating a Product Information File (PIF)
A product information file is a very important document that contains all the essential information about a product formula. In many countries it is a requirement to create one for each product you sell. Our PIF template will make it easier for you to keep the necessary records.
14.3 Cosmetic regulations
If you wish to sell your products it is essential that you comply with the relevant cosmetic regulations. In this lesson we provide lots of helpful information so you will know the regulations to comply with and what you need to do. We include the regulations in the USA, Canada, EU, UK, Australia, New Zealand, South Africa and India.
14.4 Cosmetic claims
Understand what you can and cannot say about your cosmetics and how to substantiate any claims you make. This helps you stay compliant with the regulations when labeling and marketing your products.
With every enrollment you will also receive 3 bonuses!
Formulating with AHAs and BHAs
AHAs and BHAs are a must-have in your skincare routine. In our detailed guide you'll learn:
The benefits of formulating with AHAs and BHAs including their exfoliating, humectant, anti-aging and anti-acne functions. 

How to formulate safely and effectively with lactic acid, glycolic acid, malic acid, salicylic acid, Fruit Acid Complex and willow bark extract. 
You'll receive formulation examples for a Cherry Radiance Mask, Superfruit Toner for Blemished Skin, Peppermint Foot Cream and Regenerating Night Cream.
Digital Copy of the International Bestselling Book A-Z of Natural Cosmetic Formulation 
We recently published the definitive beginners' guide to the essential terminology, theories and ingredient types needed to formulate professional cosmetic products. This book:
Is an invaluable reference guide and useful companion to our Diploma in Natural Skincare Formulation.

Provides you with explanations of the essential terminology, theories and ingredient types required to create natural, safe and stable cosmetic formulations.

Dispels common myths and answers the most frequently asked formulating questions.
Formulating Face and Body Washes with Natural Surfactants
Discover a selection of natural surfactants that are used to create foaming products. In this class you'll learn to formulate two popular types of surfactant-based products: face washes and body washes. This bonus includes:
An introduction to the science of surfactants.

A selection of gentle, natural surfactants choices (so you can avoid harsh surfactants such as SLS).

How to formulate face and body washes that are both mild and effective
Guide to Formulating Vegan Cosmetics
The demand for vegan cosmetics is huge! Globally, there has been a 175% increase in vegan cosmetics launches over the past five years. Our guide will explain:
What vegan cosmetics are.

How to make cosmetics that are both natural and vegan.

Which ingredients to avoid (and what to use instead).
It also includes ready-to-use formulas for a range of vegan skincare products including lip balm, lip stick, face mask and bath soak.
Guide to Formulating with Hemp and CBD
There is enormous demand for CBD cosmetics and the CBD beauty market is predicted to be worth US$959 million by 2024. In this must-read guide you'll learn:
The differences between hemp and CBD.

The benefits of formulating with CBD and hemp.

How to formulate with CBD and hemp.
Plus you'll receive a variety of example formulations including Soothing Facial Oil, CBD Blemish Cream and Hemp Relief Lotion.
Formulating Advanced Natural Deodorants
Learn about advanced active ingredients in deodorants and how to formulate with them.

Formulate a range of deodorant types including deodorant sticks, balms, roll-ons and sprays.

Receive a variety of ready-to-use formulas including Floral Roll-on Deodorant, Herbal Fresh Spray Deodorant and Sweet Orange Deodorant Stick.

Move beyond baking soda deodorant and create more professional and effective deodorants.
The Bath Treats eKit is a complete guide to making your own beautiful bath products!
It includes:
25 wonderful recipes for bath melts, bath bombs, bath creamers and truffles, fizzing fairy dust and aromatic bath soaks, including some that are more advanced recipes featuring natural emulsifiers and surfactants.

A beautifully designed eBook.

Information on eight essential oils to create relaxing, harmonizing and uplifting bath blends: bergamot, geranium, lavender, mandarin, frankincense, eucalyptus, benzoin and ylang ylang.

Health and safety information and essential oil contraindications.
Natural Skincare Recipes for Mother and Baby
Discover three formulations for simple, effective and safe products for babies and one formulation for pregnant women.
The recipes provided can be adapted to be fragrance free
The formulations include all the essentials required to look after your skin during pregnancy and baby's early stages: a baby bump butter, nappy balm, baby oil and baby powder.
Join the Diploma in Natural Skincare Formulation!
Yes, I'm ready to become a skincare formulator
The enrollment fee is rising to US $997 so save $300 when you enroll by 10th November 2020.
Save $200 and get 3 bonus classes FREE when you enroll onto our Diploma in Natural Skincare Formulation.
Offer Ends May 4th.
Enroll now for one simple price of
PLUS 3 Bonus classes FREE.

A-Z Natural Cosmetic Formulation Digital Book

Formulating Face and Body Washes with Natural Surfactants

Formulating with AHAs and BHAs
Enroll now for six monthly installments of
PLUS 3 Bonus classes FREE.

Check the price in different currencies on xe.com.

Choosing the payment plan option means that you will receive the course content on a "drip schedule". This means that new content is released each time you make a monthly payment. A full breakdown of the release schedule can be found in the FAQ section at the bottom of this page.
Or join the Natural Haircare and Skincare Formulator Program!
The program includes our Diploma in Natural Skincare Formulation and Diploma in Natural Haircare Formulation.
Save US $497 when you enroll on both courses together plus get 6 additional bonus classes for free:
Formulating with AHAs and BHAs 

Digital Copy of the International Bestselling Book A-Z of Natural Cosmetic Formulation 

Formulating Face and Body Washes with Natural Surfactants

Men's Facial Hair Products

Children's Haircare Products

Formulating party-ready hair products – naturally!
The full details of the program can be found here.
Yes, I want to enroll on the program!
Option 1: Monthly enrollment fee of US $157 a month for 12 months
Our lowest monthly payment plan.

Gain access to new course materials each month for 12 months.
Option 2: One single enrollment fee of $1,497
Save $387 compared to the monthly plan or $497 compared to enrolling on the courses separately.

Access course materials and bonuses immediately after enrollment (subject to Skincare Diploma release schedule).
We accept all major debit and credit cards and Paypal
By joining the course you accept our terms and conditions found here.
Don't just take our word for it, see what our students are saying
I am helping people by creating spa-quality, science-based, therapeutic, organic skincare products
"I wanted to learn more than just Internet recipes. I wanted to formulate. Since taking the Diploma in Natural Skincare Formulation I know more of the science of formulating as opposed to just using or buying ingredients randomly. I enjoyed the assignments because they allowed me to be a scientist and an artist. The biggest thing I have gained? I am helping people by creating spa-quality, science-based, therapeutic, organic skincare products."
I now have a much better understanding about skin care formulation
"I like the fact that the Diploma in Natural Skincare Formulation is an online course which gives me the time to understand at my own pace. As I am currently based in China due to work commitments, this course allows me to continue to study from other parts of the world. The course gives a very good summary of all the information needed to be a formulator, which is easy for anyone to understand. It has helped me to understand the importance of mixing various ingredients to make up a good and effective product. I now have a much better understanding about skin care formulation."
I now have the knowledge and confidence to turn my hobby into a business
"I wanted to learn how to make my products better, so I can sell them rather than just creating gifts for friends and relatives. I didn't know how to measure ingredients correctly or know enough about preservatives. I also didn't know anything about turning my hobby into a business. I loved the course. It has helped me become more professional in every way. I really valued the self-paced learning and the different types of support. I now have the knowledge and confidence to turn my hobby into a business."
Since taking the course I can formulate with ease!
"Before taking the course I didn't know how to modify recipes or scale-up correctly. I also didn't understand how to select the right ingredients based on skin type. Since taking the course I can formulate with ease! The course was perfect for me. The videos, written materials, worksheets and assignments were great. I have gained so much: knowledge, inspiration, and a wonderful community – we all learn together and support one another."
I have really enjoyed the course
"It has really helped me fine-tune my formulas and I feel so much more confident with my products and in developing new formulas. Thank you so much"
I love the accessibility and the fact I could fit it into my time schedule.
"Since taking the Diploma I understand more about finding my market in order to sell and more about the legal implications of selling cosmetics. I understand better how the skin works, the properties and benefits of a lot more ingredients and I can now make a wider selection of products. I love the accessibility and the fact I could fit it into my time schedule. I enjoyed it all!"
The modules are crafted in such a way that someone can really kickstart their business.
"I used to do a lot of research online, but more often than not I felt lost and I really struggled with confidence. I was keen on learning more, in a structured way, from experts. The course used an organized approach to help me to put all my research into practice.
The way the course is divided into modules really helped me as I could quickly pick up the most relevant one, rather than sifting through lots of information. I loved the course! It provided me with a great foundation.
I loved that the lectures were short and to the point. The modules are crafted in such a way that someone can really kickstart their business.
I am now much more confident when I make my formulations."
The course gave me the confidence to experiment.
"Before taking the Diploma in Natural Skincare Formulation I had a great knowledge of ingredients but didn't really know how to use them to develop a range of products. The course gave me the confidence to experiment. The formulation examples and templates provided have given me a strong base so that I can develop and formulate my own products."
Vibrant community and experts on hand
"Their community is vibrant and their experts are always on hand to help you to understand simple to complex concepts and procedures. I very much appreciate their mission and relatively unbiased approach to promoting healthy cosmetics and formulation techniques that are good for people, the environment and this for our future. Unlike other schools that promote a natural way or organic way for skin care, this school uses real data, real facts and tends to shy away from fear mongering. Probably the best part of this course and their teaching is the methods used to get you directly involved with making decisions about your business, your products, your exact customers (current or desired) and then servicing those customers with your message and products. Great courses. And the staff and owners are genuinely great people."
I can now create a well-balanced, effective product
"I didn't have a full understanding of the benefits of different oils, or how to balance the right ingredients in the various stages so they work together for optimal results. I can now create a well-balanced, effective product. I know which ingredients to include, in the right quantity and in the correct phase, depending on the kind of product I am making. I also love that I can be regular and accurate with my measurements for different batches. This means my products are consistent and ensures users always experience the same feel and effectiveness. I loved the Diploma in Natural Skincare Formulation. The in-depth knowledge has been great! You are raising great men and women who will break boundaries in the cosmetics and beauty industry."
What I have found most useful is knowing the science behind cosmetic formulas
"I can tweak them or use alternate ingredients myself. A lot of recipes I found online were not "safe" to use so I needed to know how I could adjust them to become safer. I found the worksheets and charts provided so useful. They have made it so easy for me to do my own formulas. If you told me two years ago that I would have my own brand today I wouldn't have believed you. Just go and do it… there is nothing else like it."
It helped me make more challenging products such as creams and lotions
"I have greatly enjoyed and appreciated the content of the Diploma course. It has helped me delve into making more challenging products, such as creams, lotions and cleansers and has also allowed me to improve my already-established recipes… to refine and perfect them! "I have gained confidence and a fundamental platform of knowledge to build and grow my own skincare business. Thank you so much!"
Every aspect of natural formulating has been covered...and then some
"I found this course to be very informative and helpful. There are so many extra bits of information and helpful resources and links to websites. I feel that every aspect of natural formulating has been covered… and then some. I highly recommend this course and I will continue to send new inspired formulators and small business owners to this course"
I love the accessibility and the fact I could fit it into my time schedule.
"Since taking the Diploma I understand more about finding my market in order to sell and more about the legal implications of selling cosmetics. I understand better how the skin works, the properties and benefits of a lot more ingredients and I can now make a wider selection of products. I love the accessibility and the fact I could fit it into my time schedule. I enjoyed it all!"
Frequently Asked Questions
Sign up now to get 3 bonus classes!