Certificate in Making Natural Skincare Products
Learn to create a complete range of facial skincare and bodycare products using luxurious natural and organic ingredients
This accredited online course will teach you to make your own natural and organic cleansers, toners, moisturizers, creams, lotions, balms, body butters, serums, masks, scrubs and more!
Do you want to use products that are free of harmful chemicals?
Do you want to know exactly what you are putting on your skin?
Do you want skincare that is safer for you and the environment?
Is your skin intolerant of commercial products?
Congratulations!
You've found it!
The best place to learn to make gorgeous, natural products!
Don't just take our word for it,
see what our students are saying
"This is the best course that I have done. Really helpful and you make it so enjoyable. The videos are great!"
We created this course out of a deep desire to gain control over what we were putting on our skin. Frustrated by the cost of buying high-quality natural and organic skincare products we decided to take the power back for ourselves!
We love getting creative in the kitchen and since 2010 we've shared this joy with thousands of students around the world. 
Gail and Gareth, Directors of the School of Natural Skincare
Make non-toxic products that are good for the environment and the people you love
Take back the power and be creative!
Feel good about what you are putting on your skin
See the difference natural ingredients make
Learn the secrets of the beauty industry – make products sold by the top organic brands for a fraction of the cost!
Don't just take our word for it,
see what our students are saying
"I made your serum a couple of weeks ago and a friend who has trained with Clarins and Chanel said it's one of the nicest she's ever tried. Thank you so much!"
"Since switching to natural I hardly get eczema attacks and haven't had an acne breakout in a year."
The Certificate in Making Natural Skincare Products is a

fun

,

multi-media

course making learning

easy

and

enjoyable

!

This course is perfect if you want to make gorgeous natural, organic and non-toxic products for yourself, friends and family using tried and tested recipes (and adapting them to suit your preferences).

Thinking you might like to sell products in the future? This is the perfect place to start! You'll learn properly from the beginning and can progress onto learning formulation skills if you wish.
Study from anywhere in the world at your own pace
Practical demonstration videos that show you exactly how to make each product
Beautiful recipe files for each module with step-by-step instructions and gorgeous photographs
Audio tutorials to follow along with, which develop key skills and bring your learning to life
Quick reference charts – so you can see the information you need at a glance
120+ wonderful natural beauty recipes plus guidance on adapting these to create your own personalized products
Support from our Natural Skincare Tutor and your classmates in our student community
Live challenge weeks - get to know your ingredients, practice your products and learn from others
Easy-to-use online classroom - track your progress
End of course certificate
By the end of the course, you will:
Be able to create a range of beautiful, safe and effective natural skin care products free from petrochemicals, mineral oils, silicones, synthetic fragrances, preservatives, and parabens.
Be able to adapt recipes to suit your skin type and preferences.
Understand the key properties and benefits of a wide range of raw ingredients including carrier oils, essential oils, butters, waxes and much more.
Be confident and empowered with your new knowledge and skills!
Understand the key properties and benefits of a range of essential oils including which skin types they are good for.
Have laid the foundation to take your studies further if you wish.
Know the role of preservatives, antioxidants and emulsifiers – when you need to use them and when not.od for.
Don't just take our word for it,
see what our students are saying
"The course has revolutionised my life! My skin is so much healthier and full of life. You are truly an inspiration!"
Absolutely fantastic, the modules are easy to read and the videos are easy to understand and follow. I would recommend this course to anyone. Thank you, amazing! Xo
Arlette Fleischer, Australia
This skincare course is awesome. I enjoyed it so much!
Diane Bienvenu, USA
It's amazing what I've learnt from your course. I love to make creams with natural ingredients. Thank you so much for this knowledge. I am opening a hair salon and spa and will practice everything I have learnt!
Rose Arijon, USA
I thoroughly enjoyed learning how to make skincare products. The course was very informative, and I am looking forward to mixing up a storm!
Nikkia Samuels, Bermuda
Module 1: Getting Started
In this Module you'll learn the fundamentals of making products, giving you a solid foundation of knowledge on which to build.
Types of natural skincare products.
Types of ingredients.
Health, safety and best practice.
Essential oils: safety and storage.
Equipment: what you'll need.
Suppliers: where to buy your ingredients, packaging and materials.
Discover a range of gorgeous natural ingredients to use in your products. Learn about natural preservatives and emulsifiers and when you need to use them.
Ingredient names: common names and INCI names.
Measurements and converting measurements.
Preservatives and antioxidants including natural preservatives.
Emulsification and natural emulsifiers.
Carrier oils for skincare featuring 19 carrier oils, their key qualities, benefits and skin types.
Butters and waxes for skincare, their key qualities and benefits.
Infused herbal oils.
Module 3: Essential oils for Natural Skincare Products
Gareth is a passionate Aromatherapist and in this Module, he'll guide you through the most powerful way to really get to know your essential oils – through the power of smell.
An introduction to essential oils, what they are and how they work.
Essential oils vs carrier oils: what's the difference?
Essential oil chart featuring 14 essential oils, their key qualities and benefits.
Essential oils audio lessons and profiles for our 14 top essential oils including frankincense, benzoin, geranium and bergamot.
Module 4: Oils and Serums
Facial and body oils are the easiest moisturizers to make. Full of nourishing plant oils and essential oils they work wonders on the skin and will leave you with a radiant complexion in no time! Learn how to make moisturizing body and massage oils, cleansing oils and facial oils and serums.
Discover the best oils to use, how to make infused oils, how to make your products, and more!
Includes recipes for:
Exotic Bath and Massage Oil
Amazing Eczema Oil
Nourishing Ylang Ylang Body Oil
Pomegranate and Raspberry Regenerating Facial Oil
Luxurious Facial Serum
Sweet Dreams Cleansing Oil
And more!
Balms are nourishing, protective and moisturizing. Simple to make and lovely to use, we guarantee you'll have loads of fun melting your butters, oils and waxes to create your dreamy concoctions!
Discover the benefits of balms, the types of balms you can make (including treatment balms, lip balms, cleansing balms and body balms), different waxes you can use and how to vary the texture. You'll also get our troubleshooting guide to help you fix common problems.
Includes recipes for:
Wild Rose Beauty Balm
Shea Facial Soufflé
Lavender Green Clay Cleansing Balm
Turkish Delight Lip Balm
Lemongrass Body Balm
Magical Marigold Balm
And more!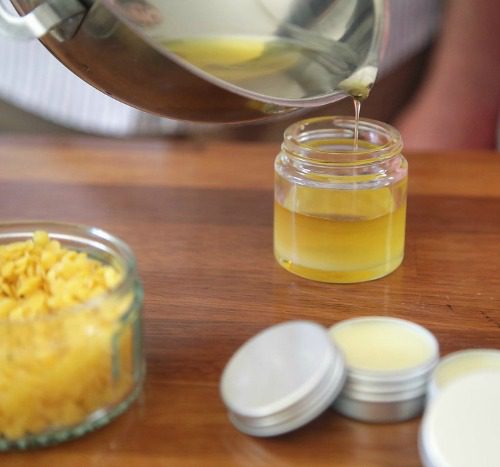 Module 6: Body Butters and Lotion Bars
Body butters and lotion bars are 100% natural and use high quantities of beautiful butters to leave skin soft, smooth and smelling gorgeous!
Learn about the characteristics and benefits of different butters and how to create your own whipped body butter recipes. Discover how to make a variety of lotion bars and massage bars.
Includes recipes for:
Coconut and Ylang Ylang Whipped Shea Body Butter
Baby Bump Body Butter
Peppermint Foot Butter
Mandarin and Cocoa Butter Lotion Bar
Wakey Wakey Lotion Bar
Bedtime Massage Bar
And more!
Module 7: Toners, Spritzers and Gels
In this Module, we explore gorgeous water-soluble ingredients like flower waters, aloe vera, witch hazel and glycerin.
You'll learn the difference between spritzers and mists, toners and astringents and how to make them. You'll also learn how to thicken your products into gels, and we'll share our top tips for creating smooth gels.
Includes recipes for:
Floral Facial Spritz
Rose, Aloe and Cucumber Facial Spritz
Rosemary and Lavender Toner
Healing Calendula Toner
Spot Treatment Gel
Soothing Chamomile Eye Gel
And more!
Module 8: Creams and Lotions
Creams and lotions are really fun to make as you can very the consistency to make richer thicker creams or light lotions or anything in between.
You'll learn the key ingredients to include, important steps to forming a successful emulsion and discover a range of natural emulsifiers to use. We also provide an invaluable troubleshooting guide helping you fix any issues that might arise (such as creams separating) and a guide to adapting cream and lotion recipes, so you can have a go at adapting recipes to suit your preferences.
Includes recipes for:
Regenerating Ylang Ylang and Frankincense Cream
Soothing Lavender and Marshmallow Cream
Eczema Soother
Regenerating Sweet Dreams Night Cream
Gentle Cleansing Lotion
Coconut and Almond Body Lotion
Rose and Vanilla Body Lotion
And more!
Module 9: Masks and Scrubs
In this Module, we'll have fun with different clays and exfoliating ingredients to create a range of scrubs for both face and body. Discover the benefits of these ingredients and which skin types they are suitable for. Sugar and salt are the classic exfoliating ingredients, in addition, we'll discover more gentle exfoliants suitable for the face including jojoba beads, bamboo powder and apricot powder.
We'll cover sugar and salt-based scrubs, whipped butter-style scrubs, facial exfoliating lotions and a range of clay-based and gel-based masks.
Includes recipes for:
Grapefruit and Geranium Circulation Boosting Scrub
Detoxifying Mud Scrub
Softening and Sensual Shea Sugar Scrub
Peppermint Shower Scrub Bars
Lavender and Aloe Cleansing Mask
Pink Clay Gentle Face Mask
Frankincense and Orange Exfoliating Lotion
And more!
Ready to feel good about what you're using on your skin?
Get started in 4 easy steps:
Click on the "Enroll Now" button below.
You'll be asked to create an account in our online classroom (or log in if you are an existing student).
Next, enter your payment details. We accept Paypal, debit or credit card.
Once payment is complete you'll be taken immediately to the online classroom where you can access the entire course and get started right away! Your log in details are also sent by email so you can log in to the classroom anytime you want to study.
Enroll now for one simple price of
Get instant access to course content after payment
We accept all major debit and credit cards and Paypal
Please note: when you purchase the course you gain access to the classroom instantly and therefore no refunds are available. By joining the course you accept our payment terms found here
Don't just take our word for it,
see what our students are saying
"I just wanted to say I'm finding your course is helping me heal and I am finding pure joy making your products 🙂 I've made the Chocolate Orange Lotion Bars so far and some bath bombs. I'm finding a kind of joy and inner peace when I am in the kitchen. I found some tins perfect for the lotion bars so gave some as gifts; my mum and sister are really impressed!"
"The recipes are wonderful and so easy. I'm able to help my friends and family with all the knowledge I have gleaned from your courses. The eczema cream is a particular favorite, with friends coming back for more!"
"I've got a keen interest in natural skincare as my skin seems very sensitive to many different shop-bought products, so I thought I'd give making my own a go. It's great to learn so much about what I can use and what different effects they'll have from the comfort of my own home and at my own pace. I'm also hoping that, if I get enough practice, knowledge and confidence, I might be able to start up my own business in a few years, too!"
I loved this course! You guys covered so much information I feel like I just took a college course on natural skincare. I now feel well equipped to move forward with making my own facial care products. It was well worth it; I'm so glad I enrolled.
Hattielynn Fridge, USA
Thank you so much for creating this course. I have a keen interest in natural skincare as my skin seems very sensitive to many different shop-bought products, so I thought I'd give making my own a go. It's great to learn so much about what I can use and what different effects they'll have from the comfort of my own home and at my own pace. I'm also hoping that, if I get enough practice, knowledge and confidence, I might be able to start up my own business in a few years, too!
Sian Grinter, UK
Gail and Gareth I would like to say a massive thank you to you both. My husband purchased the course for me for my birthday. To say it was a beautiful surprise is a little bit of an understatement. I was totally thrilled!
As a qualified nail care specialist and currently in my second year studying beauty therapy, to find this in my email was delightful.
I have thoroughly enjoyed every minute of the course. My next plan is your formulation course, which will give me a push toward my final goal.
Thank you again for a great course.
Lisa Clarke, UK
About the School of Natural Skincare
We're Gail and Gareth, Directors of the School of Natural Skincare. We are dedicated to helping you ditch chemical and synthetically laden products and instead have the knowledge and confidence to make your own beautiful, effective natural skincare products for yourself or to start a business.
The School's team of expert tutors include a Cosmetic Scientist, Cosmetic Formulator, Aromatherapist, Beauty Business Expert and Safety Assessor and all are passionate about helping you create beautiful products and thriving businesses.
Founded in 2010, the School has trained 2500+ students in 50+ countries to make their own natural and organic skincare products and launch successful businesses.
The School's fabulous recipes and fun, creative classes have been featured by the BBC and glossy magazines like Green Parent, Spirit & Destiny and Country Homes and Interiors Magazine.
If any of the following are true for you then you'll LOVE this course:
"I want to avoid as many toxic products as I can"
"I am tired of paying a fortune for a product which is laden with ingredients harmful to my health"
"I get pleasure out of using something I've custom-designed and made"
"Everything we need is provided through nature"
"I feel that to look after ourselves, protect animals and to look after the planet – this is the way to go"
"I love the environment, love creating, love learning"
Have a question? See our answers to your most FAQs here:
Is the course accredited?
Yes! The Certificate in Making Natural Skincare Products is accredited by the CPD (Continuing Professional Development) Certification Service.
The CPD Certification Service is the leading independent CPD accreditation institution operating across industry sectors. They are a globally recognized institution and accredit courses by prestigious organisations including the University of Westminster and the London School of Economics – and ours, too!
The CPD Certification Service assesses each course individually, evaluating the quality of training materials and learning activities against the highest standards. 
We are delighted to have passed the formal and impartial CPD accreditation process carried out by the team of experienced assessors at the CPD Certification Service.
See our 
Accreditations and Memberships
 page for more information on our professional memberships and accreditations.
When can I start?
You'll have instant access to all the course materials as soon as you enroll. You can get started straight away and will be making gorgeous natural skincare products in no time!
How long do I have access to the course?
You'll have access to the online classroom for three years, so plenty of time to study. We recommended that you download the files and documents to your own computer for safekeeping, that way the material is yours to keep forever!
I live in Australia/USA/India/ _______(insert country here). Can I still take the course?
Yes! The course is a fully online training program that consists of downloadable recipe files, online training videos, worksheets and an online student community.
It is designed to be taken from home from anywhere in the world. We'll provide information on ingredient suppliers in many different countries and will guide you to the relevant regulations wherever you are based, too. We have students in over 50 countries so you'll be joining a thriving community of global students when you join!
Will I get a certificate at the end?
Yes! Once you have completed the course there is a end of course quiz to take and then we'll issue you with a Certificate of Completion.
Are there set lessons to do on specific days or can you do it in your own time?
No. The course is a self-study, self-paced course so you can study at a time that suits you and complete the course as quickly or slowly as you wish. Everything is waiting for you in the online classroom when you are ready to study.
What equipment and ingredients do I need?
You'll need some basic kitchen equipment to get started. Digital scales, a thermometer, glass lab beakers or jugs, saucepans, a whisk and electric stick blender. That's enough to get started. You can find out more about the equipment you need here.
You can begin with a just few ingredients – decide what recipes you'd like to try first and start with those. From there you can gradually get more as you want to try making different products. Alternatively you can stock up at the beginning. The choice is yours. Many of the recipes need similar ingredients so once you have a few supplies there are lots of recipes you can try.
The ingredients we'll be using are highly effective, easily obtainable and affordable. I know from experience that there's nothing more frustrating than finding a recipe you want to try that suggests you use rose essential oil! Rose is a delightful oil but prohibitively expensive for most people. So we've chosen specialist ingredients that are wonderful to use and affordable. Not that we're saying don't splash out on some amazing rose oil if you want to! But it's not necessary.
Where can I buy ingredients?
Module one contains a list of our favourite suppliers around the world including in the USA, Canada, UK, Europe, Australia and Asia. There are many for you choose from, most of which will ship internationally. Some online suppliers are great one-stop-shops for everything you'll need. Alternatively, many local health food shops sell many of the things you'll need.
How much time do I need?
You can go through the course at your own pace. The materials are yours to keep forever!
You could immerse yourself in all the material over a few days, study one Module a week, or take several months. The choice is yours.
We suggest setting aside two to five hours for each Module to study the materials, get to know your ingredients and practice making the products.
I'd like to make 100% natural products made without preservatives, does the course cover this?
Yes! The course includes how to make a range of natural products which don't need preservatives. Generally, products that don't contain water don't need preservatives. I first started making my own products because I wanted 100% natural, preservative-free products so included in the course are preservative-free moisturizing balms and butters, cleansers, facial serums, toners, spritzers, lip balms, lip gloss, face masks, scrubs and more. These products have a good shelf life of around six months or so.
Some of the recipes do need preservatives – creams and lotions, for example. Where preservatives are needed we recommend those that are permitted in Ecocert organic products and the details of where to buy these is provided. I'm really happy with these preservatives and you can make wonderful creams and lotions by using them.
Do I need any special skills?
No, not at all. The videos and tutorials show you everything you need to know.
Is the course practical or just theory based?
The course covers both the theory and the practical! The course contains videos and step-by-step guides with photographs so you can learn all the practical skills you need. The recipe files, study notes and charts contain all the theory and information. The course guides you to develop both the knowledge and the skills you need so that by the end you'll be designing and making your own beautiful products with confidence.
Will the recipes be suitable for my skin type?
Yes! The course contains recipes for every skin type – normal, oily, combination, dry, mature and sensitive, plus how to treat eczema, acne and anti-aging treatments. You will learn which ingredients are suitable for which skin types so you can adapt and design recipes that suit you.
After I have bought the course is it possible to get a refund?
No, as this is an instant digital access course once you have made your payment it is not possible to get a refund. You can see the full terms and conditions here.
Ready to feel good about what you're using on your skin?
Enroll now for one simple price of
Get instant access to course content after payment
We accept all major debit and credit cards and Paypal
Please note: when you purchase the course you gain access to the classroom instantly and therefore no refunds are available. By joining the course you accept our payment terms found here