Limited time offer!
Save $100 + get 4 free bonus classes worth $200!
Certificate in Making Natural Skincare Products
Learn to create a complete range of facial skincare and bodycare products using luxurious natural and organic ingredients
This accredited online course will teach you to make your own natural and organic cleansers, toners, moisturizers, creams, lotions, balms, body butters, serums, masks, scrubs and more!
For a limited time save $100 plus get 4 free bonus classes worth $200 with your enrollment.
Do you want to know exactly what you are putting on your skin?
Do you want to avoid ingredients like PEGs, parabens, mineral oil and silicones?
Are you eager to see the difference natural ingredients can make when formulated properly?
Are you ready to learn from experts who can teach you the correct way to make your own skincare products and enjoy a new hobby at the same time?
Congratulations!
You've found it!
The best place to learn to make gorgeous, natural products!
Don't just take our word for it,
see what our students are saying
"Conflicting information from non-professionals can make things confusing. I am happy to know that since taking the course I know more than the average 'DIY' person. I have always loved making anything and everything from scratch, if possible, and now I know how to make REAL skincare products! I really like that recipes are included and you help us find suppliers to order from. Great course!"
Meagan Schmegelsky, Canada
"I never knew what information to trust from online sources or about the safety of online recipes. I am so happy to have the knowledge I learned from this course. I now feel comfortable creating my own products from home and have no doubts about the quality and safety of the products I will create in the future. Everything about the course was enjoyable. I really loved this experience and can't wait to continue my education through this school. This certificate was only the beginning for me."
Jillian Hope, USA
"In the past I have made unstable emulsions and I wanted a credible school to learn from to get things right. I'm grateful and happy that I took the course. It is tailored well for beginners, affordable and in depth. Everything is explained well and I have learnt a lot. It's been amazing. Thank you so much for changing lives!"
Siphiwe Kwabula, UK
"I have allergies to many of the ingredients in skincare products on the market. Especially the natural ones as I cannot use anything with any nut or coconut in. Now I make my own! I can make a cream or lotion myself without ingredients that I am allergic to. I found all the course to be helpful, especially understanding how to use preservatives to protect my products that contain water and using digital scales so all my measurements are accurate. I absolutely loved making the products featured in the course. I'm very happy I joined and have recommended the course to friends who have also enrolled."
Tracy Webster, Canada
"Before taking the course I struggled with not having the right emulsifiers and preservatives, and not knowing where to find them. Now I can successfully make lotions and toners, and know that I will not make anyone sick! I found it very useful that I could go through the course as fast or slowly as I wanted and that everything is downloadable. I joined the course because I wanted to learn how to make lotions and toners to incorporate into my natural product line. I learned so much more! "
Kendra Browne, USA
"I enrolled onto the course because I love essential oils and wanted to apply their useful properties to skincare. I also knew I would love getting creative by making my own skincare products. Before I joined the School, I didn't know where to start but the course is so well structured and it takes you through everything step-by-step which is just fantastic. I particularly enjoyed the overall layout of the course and of course the PDFs which I could print and keep. The videos were really helpful too.
I can now make products following recipes and feel a little more confident to have a go at creating my own recipes. I have just signed up for the Diploma in Natural Skincare Formulation!"
Rachel Smith, UK
"I want to start my own skincare line but I did not know where to start as I had no previous knowledge about making skincare products. The course gave a great introduction to making homemade skincare. It has given me the confidence to follow recipes correctly and to understand the ingredients and their role in the skincare products.
I enjoyed the video tutorials, as I learn well through seeing and listening. Being able to download the course material is very helpful so I can refer back to information and recipes. I have also registered for the Diploma in Natural Skincare Formulation to gain a deeper understanding of how to formulate and create custom skincare."
Synne Hemsen Berg, Norway
"I wanted to make my own products. I have spent a lot of time researching and still kept thinking and asking myself: Am I doing it right? The course helped me a lot. I just couldn't stop reading!! All the information was excellent, basic but the "must know" and all in one place! Now, I am a lot more confident but I know there is still a lot to learn!
Taking this course was one of the best decisions of my life! Looking forward to the Diploma in Natural Skincare Formulation course and I can imagine I will study even further. I absolutely enjoy learning with you!"
Judit Szlovenszki, UK
We created this course out of a deep desire to gain control over what we were putting on our skin. Frustrated by the cost of buying high-quality natural and organic skincare products we decided to take the power back for ourselves!
We want to correct widespread misinformation and give people the chance to learn the correct way to make skincare from professional scientists in an easy to understand, fun and enjoyable way.
Gail and Gareth, Directors of the School of Natural Skincare
Avoid widespread mistakes and misinformation by learning from professionals in the beauty industry; cosmetic formulators and scientists, who will teach you the correct way to make skincare products.
Beginners who want to create products for themselves and loved ones
Learn the correct way to make a wide range of gorgeous natural or organic skincare products for yourself, friends and family, using tried and tested recipes. We've simplified a complex subject so you can make highly effective products by following straightforward recipes with easy to obtain ingredients.
Individuals exploring career options
If you think that you might like to make a profession of creating and selling your own skincare products then this course could be an ideal first step. You'll gain confidence and learn properly from the beginning and you can progress onto learning formulation and business skills later, if you wish, by progressing onto our Diploma in Natural Skincare Formulation.
Make non-toxic products that are good for the environment and the people you love
Take back the power and be creative!
Feel good about what you are putting on your skin
See the difference natural ingredients make
Learn the secrets of the beauty industry – make products sold by the top organic brands for a fraction of the cost!
For a limited time only save $100 plus get 4 awesome bonus classes for free!
Don't just take our word for it,
see what our students are saying
"I was looking for professional guidance which I got by doing this course. I wasn't very clear about natural ingredients, preservatives, extracts, how to use them or troubleshoot when my products failed. Now I can confidently make products and I have learnt how to customize for skin types and issues, and help in solving people's skin problems. I absolutely loved the videos and the modules. They are amazingly simple and effective. I also loved the manner in which the modules are spread out and the basic, yet so important, safety tips! Keep up the awesome work!! I am so looking forward to starting the Diploma in Natural Skincare Formulation next."
Poonam Saraf, India
"I realized I didn't know nearly as much as I thought I did! I was guilty of mixing measurements, not thinking through ingredients carefully and planning for desired results, and not using preservatives.
Having taken the course, I now feel much more confident about using specific ingredients for specific reasons (for example, I used mango butter in a recent balm so it would feel 'drier' instead of oily). I've also started using ingredients like cetyl alcohol that seemed scary to be before. I really like the thorough information and all the recipes, so I printed the PDFs and put them in a binder for easy reference. You're awesome! Thank you for a great course."
Natasha Nunez, USA
"I got sick of buying expensive products, especially facial serums, so I decided to make my own. Finding information on the internet was difficult as lots of people claim things that aren't accurate. The course gave me accurate and researched information and I now have a good understanding of preservatives and antioxidants. I really enjoyed the recipes provided and still follow them often."
Reine Hobbs, Australia
"I needed more training than just Google. Products weren't always working out, I didn't fully understand how everything came together and I had quite a bit of product waste. Now I understand how much of each ingredient should be used – learning measurements has been key to succeeding. I liked that I could do it all in my own time."
Andrea Burnham, USA
"I was having trouble with cream and lotion consistency and stability. I had not learned to use emulsifiers and preservatives properly until now – learning this has helped my skills a lot. By measuring everything in grams (versus ounces, cups, ml, etc) I am now able to be very accurate with the ingredients. The modules moved along perfectly, the activities were fun and the recipes came out AMAZING! Now I feel confident and prepared to formulate, and I'm looking forward to starting the Diploma in Natural Skincare Formulation!"
Nikki Paschar-Molinaro, USA
"Before starting the course I had no knowledge of what was in store-bought products. I was constantly buying expensive products hoping to improve my skin. None of the products worked as they said they would. It was frustrating. Since taking this course I now have the knowledge and the abilities to make face and body products that are natural, environmentally friendly and healthy for my skin.
The course helped me tremendously as a beginner to understand and learn enough so that I was able to make very simple oil blends all the way to making luscious body creams and lotions. I totally enjoyed this course! Even though I am starting a bit late in life, I am pursuing a passion for healthy, natural body products and hoping that I may be able to develop a brand to share with others. I'm very happy to have found this school."
Sylvia Shattler, Canada
The Certificate in Making Natural Skincare Products is a

fun

,

multi-media

course making learning

easy

and

enjoyable

!
98% of Certificate in Making Natural Skincare Products students would recommend this course to others.
Learn from cosmetic scientists. Our tutors are professional cosmetic scientists.
Tried-and-tested formulations. Our formulas have passed Preservative Efficacy Testing.
Award winning. We are a multi-award winning school, established in 2010.
Accredited. All of our courses are fully accredited.
Study with us for your own enjoyment and learning, or to create a beauty brand.
Learn the science and art of making skincare from professional cosmetic scientists. Our tutors are experts in their field with vast amounts of experience of formulating cosmetics in professional laboratories, for small and large cosmetic brands.
Have your questions answered each week by one of our professional formulators or scientists in our dedicated Tutor Q&A.
Study tried-and-tested formulations. We'll share with you real laboratory test reports for formulations we've submitted for professional tests such as Preservative Efficacy Tests.
Learn to make products for different skin types and how to customize products to suit your needs.
Our vibrant, international student community will be with you every step of the way to provide friendly, encouraging peer support.
On-demand learning – enroll as soon as you are ready, no need to wait for set enrollment periods.
We are a multi-award winning and accredited school, established in 2010.
18 months' access. This can be extended for a small renewal fee.
Suitable for complete beginners. Internet access and access to a computer, mobile phone or tablet is needed to access the online classroom.
Approximately 40-80 hours. Most students complete the course within 3-6 months.
Your certificate is issued on successful completion of the end-of-course quiz.
Enrollment is open year-round and you can enroll and start the course as soon as you are ready.
For a limited time get save $100 plus get 4 awesome bonus classes worth $200 for free!

By the end of the course, you will:
Know when and how to use preservatives, antioxidants and emulsifiers – including how to source natural options.
Understand the key properties and benefits of a wide range of ingredients including carrier oils, essential oils, butters, waxes and much more.
Understand the science behind skincare products and how to make them safely and correctly.
Be confident and empowered with your new knowledge and skills! Have laid the foundation to take your studies further if you wish.
Create light, easily absorbed lotions perfect for pump bottles and thick, smooth creams that don't separate and are shelf-stable.
Make a complete skincare range and adapt recipes to suit your skin type and preferences.
Don't just take our word for it,
see what our students are saying
"Before joining the course I had products separating somewhat and turning runny, and was just missing something that I couldn't put my finger on. Learning proper ratios of all the ingredients surprised me because I was putting the very wrong amounts into the products.
The knowledge about the ingredients, how much you need and how to make lotion viscosity different was an eye opener. Learning ratios helped a lot. Now I'm having fun, instead of feeling lost and throwing out products and being confused how it went wrong.
I enjoyed the instructors I have to say. They are very warm in their approach and engaging. It was enjoyable listening to their videos and easy to follow because of their warm approach."
Britanny Croteau, Canada
"Some of the information that I was reading online and in books made me so confused, I didn't know what to believe or where to start. With the knowledge provided by this course, I can now confidently make my recipes and create products which are genuinely beneficial for skin. The best part was that with each assignment I could experiment, learn and make adjustments to the recipes using the things available here in my region and it worked out amazingly well. The systematic way the course is designed means it's easy to follow. Keep doing this great work. I highly appreciate the entire School of Natural Skincare team and a big thank you for this immense knowledge."
Nikita Bhatt, India
"I took the course so that I can confidently pass my products onto friends and family without worrying. Before joining the course I wasn't confident about the role each ingredient played in the making of a product. I needed to have a better grasp of this and to understand the function of each. Now I have a better grasp of the ingredients and their function, I have recipes to begin with confidently and notes to go back to whenever I need to remind myself."
Shirley Chesterman, Australia
"I wanted to improve my knowledge in the science of skincare but there is so much information available on the internet I didn't know what information was trustworthy. The course delivers information that is concise, understandable and interesting. I really enjoyed practicing making the recipes provided and they have given me a base to build upon. The materials are enjoyable to follow and the course made this subject easy and fun to learn."
Christobel Daniel, Anguilla
"I decided to join the course because I wanted healthier products for myself and family, then I saw myself opening my own shop once I retire. However, I didn't know anything about creating products like emulsions and I also didn't know as much (as I do now) about the different natural ingredients used to make products.
The course taught me a lot about preservatives and antioxidants, as well as their importance in products. I enjoyed the entire course and the most useful aspect for me was learning to make emulsions with a good understanding of the importance of preservatives and antioxidants."
Christine Odell, USA
"I joined the course because I wanted to know how to make better lotions and creams and to learn more about making natural skincare products. I am pleased to say that now that I have completed the course, I have learned the proper way to follow recipes and make lotions using the best ingredients. My lotions now look great, feel wonderful and smell gorgeous!
I enjoyed gaining lots of new ingredient knowledge, learning which ingredients to use to make my own skincare products and which ones work well on different skin types. The recipes in the course were very helpful. You are wonderful! Keep going and keep smiling."
Pavla Tukova, UK
Discover the course contents
Module 1: Getting Started
In this Module you'll learn the fundamentals of making products, giving you a solid foundation of knowledge on which to build
What is natural skincare?
The function and structure of the skin
Skin types and skincare routine
Types of product
Avoiding potentially toxic and harmful ingredients
Equipment
Health, safety and best practice
pH in skincare
Ingredient list
Suppliers: where to buy your ingredients, packaging and materials.
Discover a range of gorgeous natural ingredients to use in your products. Learn about natural preservatives and emulsifiers and when you need to use them. This Module covers:
Types and classifications of ingredients
Moisturizing the skin: water, humectants, emollients and occlusives
Ingredient names: common names and INCI names
Carrier oils for skincare featuring 20 carrier oils, their key qualities, benefits and skin types.
Infused herbal oils.
Butters and waxes for skincare, their key qualities and benefits.
Emulsification and natural emulsifiers
Preservatives and antioxidants
Measurements
Module 3: Essential oils for Natural Skincare Products
Discover the wonderful aromas and benefits of essential oils for skincare and how to use them safely. This Module covers:
An introduction to essential oils, what they are and how they work.
Safety, storage, diluting and measuring
Phototoxicity
Essential oils for facial skincare and bodycare
Essential oil chart featuring 14 essential oils, their key qualities and benefits.
Detailed profiles for our 14 top essential oils including frankincense, benzoin, geranium and bergamot.
Module 4: Oils and Serums
Facial and body oils are the easiest moisturizers to make. Full of nourishing plant oils and essential oils they work wonders on the skin and will leave you with a radiant complexion in no time! Learn how to make moisturizing body and massage oils, cleansing oils and facial oils and serums.
Discover the best oils to use, how to make infused oils, how to make your products, and more!
Includes recipes for:
Exotic Bath and Massage Oil
Amazing Eczema Oil
Nourishing Ylang Ylang Body Oil
Pomegranate and Raspberry Regenerating Facial Oil
Luxurious Facial Serum
Sweet Dreams Cleansing Oil
And more!
Balms are nourishing, protective and moisturizing. Simple to make and lovely to use, we guarantee you'll have loads of fun melting your butters, oils and waxes to create your dreamy concoctions!
Discover the benefits of balms, the types of balms you can make (including treatment balms, lip balms, cleansing balms and body balms), different waxes you can use and how to vary the texture. You'll also get our troubleshooting guide to help you fix common problems.
Includes recipes for:
Wild Rose Beauty Balm
Shea Facial Soufflé
Lavender Green Clay Cleansing Balm
Turkish Delight Lip Balm
Lemongrass Body Balm
Magical Marigold Balm
And more!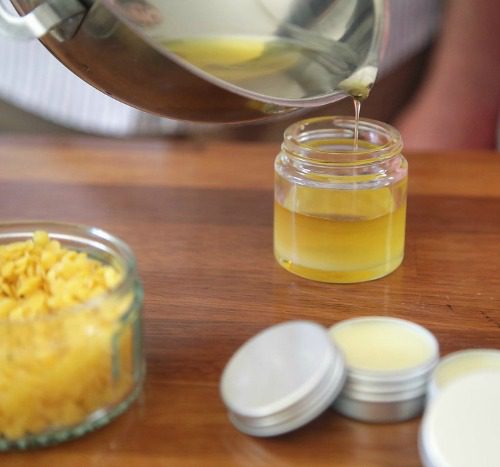 Module 6: Body Butters and Lotion Bars
Body butters and lotion bars are 100% natural and use high quantities of beautiful butters to leave skin soft, smooth and smelling gorgeous!
Learn about the characteristics and benefits of different butters and how to create your own whipped body butter recipes. Discover how to make a variety of lotion bars and massage bars.
Includes recipes for:
Coconut and Ylang Ylang Whipped Shea Body Butter
Baby Bump Body Butter
Peppermint Foot Butter
Mandarin and Cocoa Butter Lotion Bar
Wakey Wakey Lotion Bar
Bedtime Massage Bar
And more!
Module 7: Toners, Spritzers and Gels
In this Module, we explore gorgeous water-soluble ingredients like flower waters, aloe vera, witch hazel and glycerin.
You'll learn the difference between spritzers and mists, toners and astringents and how to make them. You'll also learn how to thicken your products into gels, and we'll share our top tips for creating smooth gels.
Includes recipes for:
Floral Facial Spritz
Rose, Aloe and Cucumber Facial Spritz
Rosemary and Lavender Toner
Healing Calendula Toner
Spot Treatment Gel
Soothing Chamomile Eye Gel
And more!
Module 8: Creams and Lotions
Creams and lotions are really fun to make as you can very the consistency to make richer thicker creams or light lotions or anything in between.
You'll learn the key ingredients to include, important steps to forming a successful emulsion and discover a range of natural emulsifiers to use. We also provide an invaluable troubleshooting guide helping you fix any issues that might arise (such as creams separating) and a guide to adapting cream and lotion recipes, so you can have a go at adapting recipes to suit your preferences.
Includes recipes for:
Regenerating Ylang Ylang and Frankincense Cream
Soothing Lavender and Marshmallow Cream
Eczema Soother
Regenerating Sweet Dreams Night Cream
Gentle Cleansing Lotion
Coconut and Almond Body Lotion
Rose and Vanilla Body Lotion
And more!
Module 9: Masks and Scrubs
In this Module, we'll have fun with different clays and exfoliating ingredients to create a range of scrubs for both face and body. Discover the benefits of these ingredients and which skin types they are suitable for. Sugar and salt are the classic exfoliating ingredients, in addition, we'll discover more gentle exfoliants suitable for the face including jojoba beads, bamboo powder and apricot powder.
We'll cover sugar and salt-based scrubs, whipped butter-style scrubs, facial exfoliating lotions and a range of clay-based and gel-based masks.
Includes recipes for:
Grapefruit and Geranium Circulation Boosting Scrub
Detoxifying Mud Scrub
Softening and Sensual Shea Sugar Scrub
Peppermint Shower Scrub Bars
Lavender and Aloe Cleansing Mask
Pink Clay Gentle Face Mask
Frankincense and Orange Exfoliating Lotion
And more!
For a limited time only save $100 plus get 4 awesome bonus classes worth $200 for free!
Bonus 1: Bath Treats eKit
Bonus 2: Amazonian Oils & Butters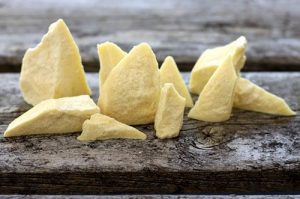 Discover a range of exotic Amazonian oils and butters to enhance your skincare products that:
Help maintain skin elasticity and integrity
Restore lipid layer of the skin
Prevent transepidermal water loss
Protect the skin cells against photo-oxidative damage
Plus receive three extra formulations for:
Murumuru Peppermint Lip Balm
Buriti Rose Body Butter
Passion Fruit Orange Body Oil
Bonus 3: Mother and baby recipe book
In this eBook we will share with you three formulations for simple, effective and safe products for babies and one formulation for pregnant women.
Recipes include:
Baby bump butter
Nappy balm
Baby oil
Baby powder
Bonus 4: Deodorant recipe book
In our Simple and effective aluminium-free deodorant recipes eBook we'll share with you two easy to make recipes, the first for a gentler baking soda deodorant, and the second a deodorant that is completely baking soda (and aluminium) free! 
"I must confess this course is good value for money. Honestly, all I expected was the course material and a certificate! I'm truly delighted with these extra bonuses and all the prompt online support we get!"
Mary Um Mustafa, UK
Ready to feel good about what you're using on your skin?
Enroll now to save $100 and receive 4 bonus classes worth $200 for free!
Total value = $547. Enroll now for $547 $247!
Get started in 4 easy steps:
Click on the "Enroll Now" button below.
You'll be asked to create an account in our online classroom (or log in if you are an existing student).
Next, enter your payment details. We accept Paypal, debit or credit card.
Once payment is complete you'll be taken immediately to the online classroom where you can access the entire course and get started right away! Your log in details are also sent by email so you can log in to the classroom anytime you want to study.
Enroll now for one simple price of
Save $100!

Get instant access to the course after payment

Plus receive 4 bonus classes worth $200 for free (limited time only)
Enroll now for three monthly installments of
PLUS 4 Bonus classes FREE.

Check the price in different currencies on 

xe.com

.

Choosing the payment plan option means that you will receive the course content on a "drip schedule". This means that new content is released each time you make a monthly payment. A full breakdown of the release schedule can be found in the FAQ section at the bottom of this page.
We accept all major debit and credit cards and Paypal
By joining the course you accept our terms and conditions found here.
Want to try before you buy?
Sign up for a free trial!
Sample a selection of course materials inside our online classroom.
Or join the Beginner to Formulator Program!

The full program includes the Certificate in Making Natural Skincare Products and Diploma in Natural Skincare Formulation.
Save US $217 when you enroll on both courses together plus receive 10 bonus classes worth $750 for free!
Total value = $2,094. Enroll now for $1,344 $1,127!
Yes, I want to enroll on the program!
Enroll now for one simple price of
Get instant access to both courses.

Save $217!

Get 10 free bonus classes (worth $750)

Total Value $2,094 NOW ONLY $1,044!

Natural skincare recipes for mother and baby

Simple and effective aluminium-free deodorant recipes eBook

Bath treats eKit

Amazonian oils and butters

Formulating advanced natural deodorants

Formulating with CBD and hemp seed oil

Formulating vegan skincare

Formulating with AHAs and BHAs.

Digital Copy of the International Bestselling Book A-Z of Natural Cosmetic Formulation

Formulating Face and Body Washes with Natural Surfactants (released 2021)

Check the price in different currencies on xe.com.
We accept all major debit and credit cards and Paypal
By joining the course you accept our terms and conditions found here.
Don't just take our word for it,
see what our students are saying
"I took the course because I like to make things myself and I want to "Go more Natural" to make sure I have only natural products in my life.
I was struggling with knowing what ingredients to use, what qualities of each ingredient and how to preserve the products. Basically, how to do it properly. The course helped me because it explained everything clearly and answered all of my questions, and more!
I loved the whole course :-). Most especially learning about the properties of the ingredients, what is best for different skin types and how to make things properly. It helped me to make quality products and feel confident about it."
Anne Muir, South Africa
"I wanted to make my own products and start my own product line, so I was looking for a course to help me. My primary focus was to find out how to blend ingredients together and in what percentage.
Now having taken the course, I have way more knowledge, which increased my confidence. Of course, I still have a lot to learn, but I feel so much better after taking this course. I found the general explanation of different ingredients very helpful. The class was a huge help to me….money well spent!"
Kenya Ferguson, USA
"I want to keep on learning and I love Gail and Gareth's style of teaching. I love that they are strict about safety and protocols. I really enjoyed the way the course is delivered and the accompanying worksheets and handouts
I wasn't sure how to work with ingredients that were beyond simple carrier oils, butters and essential oils. Now I am gaining more confidence in using preservatives, other more unusual ingredients like humectants, emollients, and thickeners."
Hilary Misiano, USA
"I was making my own natural deodorant and I wanted to ensure I was undertaking best practice. I was really struggling to get my recipes right, especially a lumpy shea butter. Now I know things like how to measure everything in grams, that my recipe must equal 100 grams, when I need to use a preservative, what equipment to use and how to sanitize my area and equipment.
The course was very simple and easy to understand with friendly presenters and great recipes. I also appreciated the list of where to buy ingredients and now I am considering undertaking more studies."
Tracey Hickmott, Australia
"I have always wanted to open my own boutique spa and sell my own natural face and body skincare products free from harmful ingredients and toxins. I finally made the decision to actualize my dreams but I also needed to learn how to formulate products to sell to customers.
I chose to enroll onto the Certificate in Making Natural Skincare Products course which gave me the fundamentals and now I'm looking forward to completing the Diploma in Natural Skincare Formulation, so I can design my brand, create my labels and sell my products to customers.
For the last 10 years I have made my own skincare products but I struggled in making larger batches but this course helped me understand how to do that.
This course has tremendously helped me to get comfortable with experimenting with different oils, butters and essential oils. I also understand different skin types and potential skin issues. I loved the video tutorials because they gave me a second overview of the module topic activity. Reading the materials and then putting my knowledge into practice is very helpful."
Marylu Delgado, USA
"As I already take care of my body through bio food and sports, I wanted to add an extra layer on my overall health and make my own natural skincare products. DIY recipes found online were not convincing to me as being natural and safe.
I was struggling with not being able to judge if a formula is safe and natural. This course helped with this and with a trustworthy supplier list of natural ingredients. I now also know how to check if a product is natural. I especially loved making the gels and gel based face scrubs."
Désirée Verbauwen, Belgium
About the School of Natural Skincare International
The School of Natural Skincare International is a multi-award-winning online natural cosmetic formulation school. Our accredited, multimedia online courses cover every aspect of skincare and haircare formulation and are studied from home, wherever our students are in the world, via our online classroom, and with tutor and community support every step of the way.
Founded in 2010 by Directors Gail and Gareth Després, to date the School has trained over 15,000 students in 150 countries to make their own natural and organic skincare and haircare products and launch successful businesses. 
The School's team of expert tutors include cosmetic scientists, cosmetic formulators, aromatherapists, beauty business experts and safety assessors, and all are passionate about helping you create beautiful natural cosmetics and thriving businesses.
The School's fabulous formulations and fun, creative classes have been featured by the BBC and glossy magazines like Green Parent, Spirit & Destiny, and Country Homes and Interiors Magazine.
If any of the following are true for you then you'll LOVE this course:
"I want to avoid as many toxic products as I can"
"I am tired of paying a fortune for a product which is laden with ingredients harmful to my health"
"I get pleasure out of using something I've custom-designed and made"
"Everything we need is provided through nature"
"I feel that to look after ourselves, protect animals and to look after the planet – this is the way to go"
"I love the environment, love creating, love learning"
Have a question? See our answers to your most FAQs here:
Is the course accredited?
Yes! The Certificate in Making Natural Skincare Products is accredited by the CPD (Continuing Professional Development) Certification Service.
The CPD Certification Service is the leading independent CPD accreditation institution operating across industry sectors. They are a globally recognized institution and accredit courses by prestigious organisations including the University of Westminster and the London School of Economics – and ours, too!
The CPD Certification Service assesses each course individually, evaluating the quality of training materials and learning activities against the highest standards.
We are delighted to have passed the formal and impartial CPD accreditation process carried out by the team of experienced assessors at the CPD Certification Service.
See our
Accreditations and Memberships
page for more information on our professional memberships and accreditations.
How much time do I need? How long is the course?
The Certificate in Making Natural Skincare Products is our shorter beginners' course. The time it takes to complete the course really depends on how many products you want to make. You can make as many or as few as you like! We estimate allowing approximately 40-80 hours. Most students complete the course within 3-6 months. You could immerse yourself in all the material over a few days, study one module a week, or take several months. The choice is yours.
If you are looking for a longer and more in-depth course then you may wish to consider our Diploma in Natural Skincare Formulation.
How does studying with you work? What support is available?
Studying online is easy and convenient. You can study at your own pace from the comfort of your own home (or office/library - wherever you wish!).
As soon as you enroll you receive access to the course inside our online classroom. There you'll find the whole curriculum laid out for you. We provide a variety of study materials - written lessons in beautiful downloadable pdfs, video demonstrations, audio lessons, downloadable worksheets, reference charts, activities and quizzes.
Once a week on a Monday, you'll have the opportunity to ask questions to our experienced, professional Cosmetic Scientists through our specialised Tutor Q&A forums, hosted in our online classroom.
You'll meet your classmates in our private student support group (hosted in Facebook). Here, you can chat to other students and graduates to ask for their advice, knowledge and expertise. We encourage peer-to-peer support and know how valuable access to a community of like-minded individuals can be when studying remotely. 
When you have worked through the lessons you can take the end-of-course quiz. Once you have successfully completed the quiz you'll be issued with your Certificate of Completion. You can retake the quiz as many times as you need to.
How long do I have access to the course?
You'll have access to the online classroom for 18 months, so plenty of time to study. We recommended that you download the files and documents to your own computer for safekeeping, that way the material is yours to keep forever!
What raw materials/ingredients do I need?
In terms of ingredients we recommend that you start off simple! With just a handful of ingredients you can make many types of product. We suggest you begin with inexpensive carrier oils that are still very beneficial for the skin. This means as you are practicing and learning you won't waste expensive ingredients.
So it's probably best to start with:
1-2 emulsifiers.

1 preservative.

1 antioxidant (Vitamin E).

2 stabilizers (cetyl alcohol and xanthan gum).

1 humectant (glycerin).

1 wax (beeswax or a vegan alternative).

A few basic carrier oils (eg sweet almond, sunflower, apricot kernel).

A few specialist carrier oils (eg avocado, macadamia, rosehip, raspberry seed, evening primrose).

A few butters (eg shea and cocoa).

A few essential oils (the course covers 14 essential oils in depth - you could start with 3-5 of these).
You can download the ingredient list for the course here: Ingredient list. You don't need to buy everything. We suggest that you read through some of the recipes and decide what you'd like to make. You can also look through the ingredient charts to see which oils sound appealing to you. Then you can order your ingredients accordingly.
Don't get overwhelmed - keep it simple! You can always add more ingredients to your collection later.
If you are looking for a wider range of ingredients and more advanced ingredients then our Diploma in Natural Skincare Formulation or Advanced Certificate in High-Performance Serum Formulation might be a better choice for you.
Where can I buy ingredients?
There are many excellent suppliers of cosmetic ingredients. We provide a very extensive supplier list within our courses that covers suppliers in Australia, New Zealand, Asia, Europe, UK, USA, Canada and more.
The Certificate in Making Natural Skincare Products uses easy-to-source ingredients and it's likely you'll be able to find what you need in your country. Depending on where you live you may need to order emulsifiers and preservatives from overseas if you wish to use those approved by natural/organic certification bodies. Many suppliers ship internationally.
What equipment do I need to get started?
I live in Australia/USA/India/ _______(insert country here). Can I still take the course?
Yes! The course is a fully online training program that consists of downloadable recipe files, online training videos, worksheets and an online student community.
It is designed to be taken from home from anywhere in the world. We'll provide information on ingredient suppliers in many different countries and will guide you to the relevant regulations wherever you are based, too. We have students in over 150 countries so you'll be joining a thriving community of global students when you join!
Will I get a certificate at the end?
Yes! Once you have completed the course there is an end of course quiz to take and then we'll issue you with a Certificate of Completion.
Will this course teach me how to start my own skincare brand or formulate products from scratch?
No. The Certificate course will teach you how to make products by learning the principles behind each product type and following our recipes (adapting them, if you wish). If you want to learn to formulate skincare products from scratch or to start your own brand then our Diploma in Natural Skincare Formulation would be a good choice for you.
The Certificate course can certainly be the first step you take towards starting your own brand or formulating your own products but you will need to complete our Diploma in Natural Skincare Formulation afterwards.
How is the Certificate in Making Natural Skincare Products different to the Diploma in Natural Skincare Formulation?
The Certificate in Making Natural Skincare Products is our beginners' course and useful if you want to create products for yourself, family and friends and primarily follow our recipes rather than creating your own. You will gain a good foundational knowledge of different types of products, when and why to use preservatives, emulsifiers and antioxidants and you'll get lots of recipes to try out. By the end you'll confidently be creating a range of natural or organic skincare products for face and body including creams and lotions, cleansers, toners, serums, body butters, lotion bars and scrubs.
Our Diploma in Natural Skincare Formulation takes your skills to the next level. This more advanced course will teach you how to formulate your own products from scratch, rather than following our recipes. This means you'll design a unique product by identifying who the product is for and the benefits you want it to offer. You'll then use our guides and templates to help you choose your ingredients and create a unique formula. We cover a wider range of ingredients and also help with business essentials such as creating a brand and selling your products legally. If you want to start a brand or sell your products then the Diploma in Natural Skincare Formulation is designed to help you do that.
Many students only take the Certificate course as that helps them achieve their goal of making products for themselves and their friends and family. Many also start with the Certificate course and then move onto the Diploma course to help develop their skills further. Some students who already have some experience with making skincare products only take the Diploma in Natural Skincare Formulation.
Are there set lessons to do on specific days or can you do it in your own time?
The course is a self-study, self-paced course so you can study at a time that suits you and complete the course as quickly or slowly as you wish. Everything is waiting for you in the online classroom when you are ready to study.
I'd like to make 100% natural products made without preservatives, does the course cover this?
Generally, anhydrous products (those that don't contain water) don't need preservatives and the course includes many types of preservative-free anhydrous products such as oil, balms, butters, lotion bars and face masks. These products have a good shelf-life of around six months or so without preservatives.
Some of the recipes do need preservatives – creams, lotions and toners, for example. Where preservatives are needed we recommend those that are permitted by natural and organic standards, and include detailed information on how to use them and where to buy them.
Will the recipes be suitable for my skin type?
Yes! The course contains recipes for every skin type - normal, oily, combination, dry, mature and sensitive, plus recipes suitable for skin prone to eczema or acne. You will learn which ingredients are suitable for which skin types so you can adapt and design recipes that suit you.