This wonderful serum is great for everyone not just for mature skin.  Really it should be called rejuvenating radiant facial serum as regular use will promote healthy, happy skin!
The serum is 100% natural and can easily be made 100% organic too if you choose organic carrier and essential oils.
You will need:
A 20ml pipette bottle (or similar).
Your choice of carrier oil.
Your choice of essential oils.
Use a maximum of two drops of essential oil per 5ml carrier oil, always check the safety info and patch test first!
You can use just one or a blend of carrier oils. Similarly you can use just one or a blend of essential oils. Keep it simple and use just a few ingredients to begin with or mix and blend to your hearts content. Massage a few drops into your skin, it will quickly absorb leaving you with a beautiful, healthy complexion.
Some specialist carrier oils that are wonderful to use are:
Rosehip oil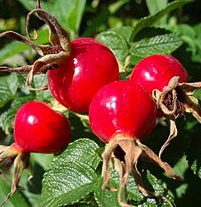 Regenerating, rejuvenating and healing. A light, non-greasy oil that is quickly absorbed. Rosehip seed oil contains tretinoin (a form of vitamin A) which helps to repair damaged skin, acne and reduce wrinkles and scars. One of the best oils for mature skin, it is a good source of essential fatty acids (omega 3 and 6) which assist with skin regeneration. Rich in linolenic acid which helps with UV damage, fine lines and wrinkles and vitamin C and beta carotene, both of which are antioxidants. A truly wonderful oil for facial serums and effective in small amounts (as little as 10% of your product).
Trilogy's Rosehip Oil is their best-selling product, with rave reviews from the beauty industry. Make your own for far less!
Macadamia nut oil
Emollient, rejuvenating, easily absorbed. A beautiful light facial oil. Excellent for anti-aging and anti-wrinkle blends due to its high content of palmitic acid which slows the aging process. Also rich in oleic acid which assists with skin cell regeneration and is softening, smoothing and moisturizing.
Jojoba oil
Balancing, softening, soothing. Balances sebum production so great for oily skin, acne or dry skin. Anti-inflammatory, may be used to treat eczema and psoriasis. Light and well absorbed.
Squalane (olive squalane)
A much better, natural alternative to the silicones often used in commercial serums, squalane glides onto the skin and doesn't feel oily at all. Squalane softens the skin, improves elasticity, reduces signs of aging and boosts cell regeneration. Squalane is produced naturally by your skin until your mid-20s and helps to moisturize and protect it. After your mid-20s it's really useful to use olive squalane as is very similar in structure to the natural one produced by the skin and is therefore absorbed really well. It's really lovely to use, it's lighter than an oil and leaves the skin silky and smooth. It can be used on its own or blended with a small amount of the specialist vegetables mentioned above. Check out our article on squalane here: Our secret facial serum ingredient
Essential oils
Frankincense
Famous for its skin preserving and regenerating qualities. A cytophylatic oil which means it aids the process of skin cell regeneration. Tonifying and rejuvenating, its one of the most important oils for improving skin tone and treating aging skin as well as reducing scar tissue. Neal's Yard Frankincense range contains some of their best-selling products. You can enjoy the amazing benefits of frankincense by using the essential oil in your own products at a fraction of the cost. Best to avoid in the first trimester of pregnancy.
Lavender
Wonderful for all skin types and great for mature skin as it has powerful skin preserving qualities (cicatrisant) and is a wonderful aid in the process to regenerate cells (cytophylactic). The soothing and anti-inflammatory action of lavender oil will also have a balancing action on the skin and can be used for dermatitis, eczema, psoriasis, and acne. Helps the skin heal faster and with less scarring. Avoid in the first trimester of pregnancy.
Geranium
An extremely valuable oil for skin care because of its antiseptic, astringent, balancing and cicatrisant qualities which make it effective for the treatment of oily, greasy, congested, acne-prone skin and eczema. A wonderful balancing oil it works to balance the production of sebum (the skin's natural oil) making it suitable for dry or oily skin. It has wonderful skin repairing and preserving qualities with the additional benefit of the wonderfully floral and sweet aroma. Do not use in pregnancy.
Some of our favourite blends
Rejuvenating Facial Elixir
Suitable for all skin types and is a wonderful balancing, healing and rejuvenating blend. This contains two rejuvenating oils – rosehip and frankincense and two balancing oils – jojoba and geranium.
10ml jojoba oil, macadamia oil or olive squalane
10ml rosehip oil
4 drops frankincense essential oil
2 drops lavender essential oil
2 drops geranium essential oil
Anti-Aging Facial Serum
A wonderful blend of the best regenerating and rejuvenating oils.
5ml rosehip oil
5ml macadamia oil
10ml olive squalane
4 drops frankincense essential oils
4 drops lavender essential oil
Join us for our free training series: Become a Natural Skincare Formulator
Want to know how you can change a recipe and make it yours?

Feel confident swapping or choosing ingredients?

Design a skincare product from scratch?

Create a best-selling product that your customers buy again and again?
We're going to take you on a journey to help you move from where you are now to understand what formulating is and how you can create awesome skincare products from scratch.
Yes, really! Formulating isn't just for Cosmetic Scientists, it's for you too. We're going to show you how.
Join us to discover:
The difference between following recipes and formulating your own products

How to personalize and customize your skincare products

Specialist carrier oils for different situations

What you need to know if you want to sell your products
Join us to begin your journey. Sign up now. It's free!