Certificate in Preservative-Free
Face mask and Cleanser Formulation
Create your own range of 100% natural or organic masks, cleansers and scrubs
Preservative-free doesn't mean with a short shelf life.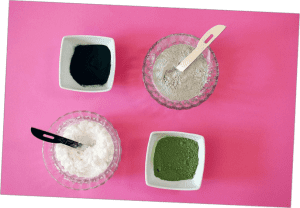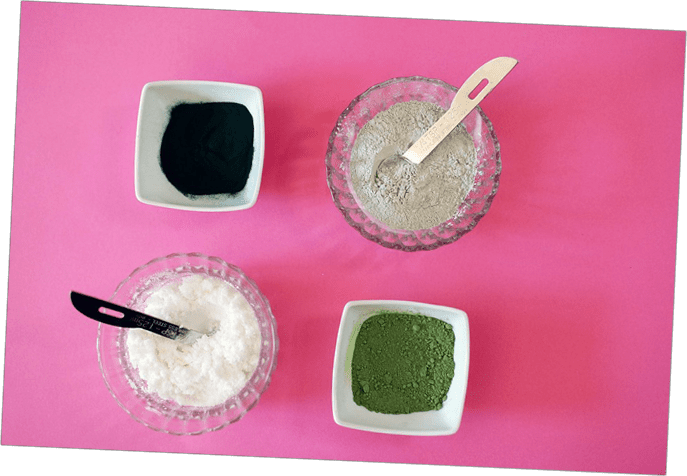 When you know what does and doesn't need preserving, you can create beautiful, preservative-free products with a long shelf life.
Join us to discover how!
Whether you are a beginner or have more experience, if you love spa-style treatments and a little me-time, you'll love this course!
For the natural beauty lover:
Unleash your creativity and play with a wide variety of exciting ingredients.
Blend clays, superfoods, botanical extracts, vitamins, exotic spices, oils, butters and essential oils. Discover activated charcoal, raw cacao, spirulina, colloidal oatmeal, coconut milk and more!
Enjoy an at-home spa ritual.
Create specialist treatments to refresh, refine and smooth your skin.
For the beauty brand owner:
Increase your product range with luxurious spa-style masks.
Be at the forefront of the new 'kitchen beauty' trend – products sold to be mixed and activated at home
Tap into the demand for preservative-free products. PLUS no need for microbiological testing.
"I feel more confident now working with different kinds of ingredients to create the product I want."
"I can't tell you how much I enjoyed this formulation course. It's so much more than I had expected and exactly what I needed. I have learned so much from it and feel more confident now working with different kinds of ingredients to create the product I want."
Jean Liao, Toronto, Canada
We're Gail and Gareth, Directors of the School of Natural Skincare
We help our students create unique, innovative products they and their customers LOVE.
Learn from our team of beauty experts including Cosmetic Chemists, Formulators and Safety Assessors.
Study our fun and enjoyable multi-media online classes from anywhere in the world.
Have fun creating your own unique products with our multi-media online course!
Six multi-media Modules featuring video classes, workbooks, worksheets and reference charts
International student community and tutor support
Formulation worksheets and guides plus gorgeous example formulations
Fully mobile responsive online classroom for studying at your computer or on the go from anywhere in the world
50+ natural and organic ingredients, plus an ingredient chart helping you easily select your ingredients based on suitable skin types, main functions and benefits
End of course Certificate
Module-by-Module Course Content:
Module 1: Introduction to Formulating Preservative-Free Face Masks
1.1 Introduction to formulating
New to formulating? No problem! You'll learn the professional way to create formulas and what to include. This lesson also explains formulating in percentages and converting this into weight-based measurements.
1.2 Formulating preservative-free face masks
We'll cover the main types of preservative-free face mask (with a long shelf life), typical ingredients, examples and the advantages of each. Learn how to make cleansers and exfoliators, too!
1.3 Functions of face masks
You'll discover the many possible functions and benefits of your masks, including: cleansing, exfoliating (chemical and physical), detoxifying, anti-oxidant, soothing, conditioning, brightening, and more.
1.4 Product development: questions to ask and how to use a product development brief
To create products with a particular purpose or benefit in mind you'll need to use a product development brief. This lesson explains how to use one to create products you and your customers love and that deliver the results they want.
2.1 Ingredient workbook
Discover 50+ exciting ingredients to use in your masks and the functions and benefits of each.
Included are a wide range of ingredients including activated charcoal, colloidal oatmeal, seaweed, chlorella, spirulina, matcha, fruit powders, MSM, vitamins, clays, starches and more!
Learn which ingredients add exfoliating properties to your products if you wish to make masks that exfoliate the skin too.
2.2 Ingredient chart
At-a-glance chart helping you easily select your ingredients based on suitable skin types, main functions and benefits.
Module 3: Dry Powder-Based Masks
3.1 Formulating dry powder-based masks
These are an innovative product that the consumer activates just before use by mixing with water, ensuring they are fresh and potent.
We'll look at what they are, how to use them and the many different ingredients you can use – far more than just clay! Discover how to make cleansing and exfoliating products too.
3.2 Clay-based masks
There are so many gorgeous clays to choose from including pink, red, green and rhassoul, each with their own unique properties. We'll share with you an example formulation for a Pineapple Yoghurt Mask (with Pink Clay and Oats), a formulation template for creating your own unique masks, and instructions for creating your mask.
3.3 Milk-based masks
Milk is an incredible skin-softening ingredient to use in your masks and there are so many varieties to try including goats milk, coconut milk and buttermilk. We'll share with you an example formulation for a Coconut Milk & Honey Mask, a formulation template for creating your own unique masks, and instructions for creating your mask.
Module 4: Balm-Based Masks
4.1 Introduction to formulating balm-based masks
Another innovative anhydrous product that combines powder-based ingredients with butters and oils to create sumptuous facial masks. We'll look at what they are, how to use them and the many different ingredients you can use. Learn to vary the consistency from a balm to a jelly to create a nourishing and pampering product.
4.2 Formulating balm-based masks
By using oils and butters to create balm style masks you can create nourishing and softening skin treats! We'll share with you an example formulation for a Superfood Face Mask Example (With Coconut Oil and Spirulina), a formulation template for creating your own unique masks and instructions for creating your mask.
Module 5: Honey-Based and Honey-Activated Masks
5.1 Introduction to formulating honey-based/activated masks
We'll look at how you can incorporate fresh honey into your skincare products, either to create premixed products or as a two-phase product that the customer mixes at home before use. Discover the benefits of honey and how to blend it with other ingredients for a sweet skin treat that heals and smooths.
5.2 Formulating honey masks
Honey has many beneficial properties for skin including its antibacterial and healing properties, plus its ability to cleanse and smooth. We'll share with you an example formulation for a Honey Mud Mask and provide formulation templates and instructions for creating your own unique masks.
Design and make radiance-enhancing, detoxifying and beauty boosting face masks and cleansers – preservative free!
Enroll now!
Get started in 4 easy steps:
Choose your payment option below and click on the "Enroll Now" button.
You'll be asked to create an account in our online classroom (or log in if you are an existing student).
Next, enter your payment details. If you pay the full enrollment fee you can use Paypal, debit or credit card. For payment plans it's debit or credit card.
Once payment is complete you'll be taken immediately to the online classroom where you can access the entire course and get started right away! Your log in details are also sent by email so you can log in to the classroom anytime you want to study.
Enroll now in the Certificate Course
Get instant access to course content after payment
We accept all major debit and credit cards and Paypal
Please note: when you purchase the course you gain access to the classroom instantly and therefore no refunds are available. By joining the course you accept our payment terms found here
I recently completed the preservative free face mask course (which was awesome & I totally loved it) and have two masks out in the public eye. I entered my Spirulina superfood mask into a competition & I'm so chuffed I got a gold award 
🎉
🎉
🎉
Thank you Gail & Gareth for running the fab course. Here's to you guys and your amazing courses 
Kelly Ford
Have a question? Here are our answers to your most FAQ
I live in Australia/ USA/ India/ _______(insert country here). Can I still take the course?
Yes! The course is a fully online training program that consists of online training videos, downloadable workbooks and worksheets and an online student mastermind group. It is designed to be taken from home from anywhere in the world and the products we make meet global quality and safety standards. We'll provide information on ingredient suppliers in many different countries and will guide you to the relevant regulations wherever you are based, too. We have students in over 50 countries so you'll be joining a thriving community of global students when you join!
Why are your prices in US $?
We are an international school with students worldwide. US dollars are the most widely recognised and accepted currency.
You can check the exchange rate for your local currency using xe.com.
Will I get a certificate at the end?
Yes, when you have finished the course there will be a quiz to take. On successful completion of the quiz your course certificate will be issued.
Are there other tests I need to have to sell my products?
If you are selling to or within the EU (including UK) then our Business Edition of this course is designed to make it as easy as possible for you.
In terms of having your product safety assessed, anhydrous products such as the ones featured on the course do not need microbiological testing. Stability testing is optional (a self-declaration is permissible).
Our assessor can include all the types of products covered on this course. Regarding the honey-based masks the two-phase products mixed at home can be included without a microbiological test. If you wish to sell premixed honey-based masks then due to the small amount of water present in honey, depending on your usage percentage, a microbiological test may be required.
How long will I have access to the course?
You will have access to the online classroom for three years. Plenty of time to study all the materials. You can also download many of the materials to save on your own computer and keep for longer than that.
Are there set lessons to do on specific days or can you do it in your own time?
The course is a self-study, self-paced course so you can study at a time that suits you and compete the course as quickly or slowly as you wish
Is this course for beginners or those with more experience?
The class is perfect for beginners and people with more experience who want to add additional products to their existing product range.
"The course was simply extraordinary!
"You have done a tremendous job putting this course together! It was just the right amount of reading/reference materials, videos, and opportunities to practice formulating products at just the right stage of my learning. The reference guides will be a helpful reference for years to come. Both of your passion for your work and teaching shows through and has been an inspiration for me."
Heather Weinbauer-Literski, Wisconsin, USA, Diploma in Natural Skincare Formulation Graduate