There are so many reasons to add buriti oil to your skincare products! Here our Cosmetic Scientist, Chandi Patel, gives an overview of the oil and its benefits.
Buriti oil (INCI: Mauritia Flexuosa (Buriti) Fruit Oil) comes from the moriche palm tree in the Amazon. This exotic oil contains many excellent benefits for the skin and is a wonderful addition to your products both for the benefits it provides and to add an interesting twist to your product story.
Benefits of buriti oil for skincare:
Reduces the appearance of fine lines and wrinkles.
Helps in lightening dark spots caused by sun exposure.
Restores skin elasticity.
Protects the skin against photo-damage.
Helps to protect the membranes surrounding skin cells which keep the skin cells healthy for longer.
Great emollient properties which help to rebuild, moisturize and rehydrate skin cells.
Anti-inflammatory properties help combat skin conditions such as redness, rashes, sensitive skin, roughness and irritation.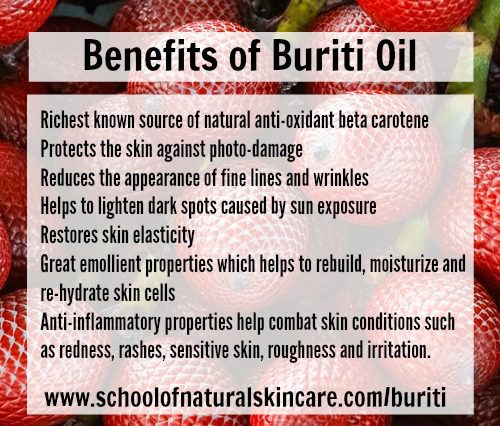 Composition of buriti oil:
Richest natural source of beta-carotene – known as an excellent natural antioxidant. It is this high natural beta-carotene concentration that protects the skin against photo-damage and, also helps to protect the membranes surrounding skin cells, which keeps the skin cells healthy for longer.
Rich in unsaturated fatty acids and contains vitamins E and A which promotes great emollient properties, which help to rebuild, moisturize and rehydrate skin cells.
What is buriti oil used for?
Buriti oil can be used in many skincare formulations including:
Body and facial cleansers.
Body and facial moisturizers.
Haircare preparations especially for those with dry, brittle and damaged hair.
Lip care.
It can be used by all skin types but is particularly suited for dry, mature and aging skin, eczema, psoriasis and other skin conditions.
You can find buriti oil from suppliers such as From Nature with Love in the USA and Akoma in the UK.
References:

Zanatta, C. F., Mitjans, M., Urgatondo, V., Rocha-Filho, P. A., & Vinardell, M. P. (2010). Photoprotective potential of emulsions formulated with Buriti oil (Mauritia flexuosa) against UV irradiation on keratinocytes and fibroblasts cell lines. Food and chemical toxicology, 48(1), 70-75.
Ferreira, B. S., De Almeida, C. G., Faza, L. P., De Almeida, A., Diniz, C. G., Silva, V. L. D., … & Le Hyaric, M. (2011). Comparative properties of amazonian oils obtained by different extraction methods. Molecules, 16(7), 5875-5885.
Free Skincare Formulation Challenge
Design a facial serum (that flies off the shelves) in 5 days!
Learn how to to formulate natural and organic skincare products that people need, want and love
 - and keep coming back to buy more!
 In this FREE challenge you'll:
Learn our 5 steps to creating products customers need, want and love - and keep coming back to buy more

Design your own unique & gorgeous facial serum - with our help

Know how to create products for different skin types

Learn how to choose which ingredients to use

Join our tutors and your peers for a fun, interactive experience
 This is for you if:
You have some experience or no experience

You want to start creating your own recipes rather than follow others

You'd like to create a unique product range for yourself or to sell
This training is usually reserved for paid students only. For a limited time we're inviting you too!